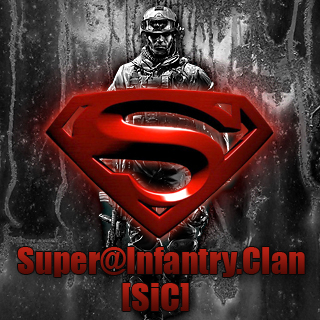 Platoon-Präsentation
FOR MEMBERS ONLY! IF YOU WANT TO JOIN US PUT UP AND APPLICATION ON OUR FORUMS

[Super@Infantry.Clan]
[Super@Battlefield.3]
[Super@Battlefield.2]
[Super@Battlefield.2142]
[Super@Bad.Company.2]

Founded June 2006
History:

Templado is the person who founded to clan but thanks should also be given to the following people for their help and dedication: -=TKO=-Putana BTown clan who decided to unite their clan with ours to all become Super@members Tee_Trinker xxxFlipsterxxx cafe_macher And thanks also to all the members who joined after that because all have make a contribution to the Clan.
From the early days of running a Battlefield 2 Infantry Only server, before DICE had released patch 1.41 (the first introduction of the I/O option) [Super@Infantry.Clan] have persistently provided popular, enjoyable and fair gaming environments for the gaming community.
Between 2006 and 2009 saw SUPER@ rapidly expand. As the SUPER@ ranks continued to grow so did the number of servers we provided. Members joined from all corners of the World with members from China, Russia, the Mid East, Europe and even as far as the US. The end of 2008 saw SUPER@ begin streaming it's servers to Pbbans. To coincide with patch 1.51 we began hosting 15 ranked BF2 servers, 1 Sandbox and even a Counter Strike server. This provided over 1,000 slots for online players. For over three years SUPER@ has been the most popular BF2 community in the World.
The SUPER@ forums quickly became a burgeoning community where player's, members and visitors could exchange views and opinions regarding online gaming, music, films, philosophy and anything else of interest.
To reflect our new status SUPER@Infantry.Clan was renamed SUPER@ Multi-Gaming Community.
2010 saw the release of Bad Company 2 and 5 new SUPER@ servers, we began to support BF2142 with two servers ranked in the Top 10 in the World. 2010 saw SUPER@ begin streaming its BF2 and BF2142 servers to GGC to increase the protection of SUPER@ servers and to assist the Battlefield community to identify and eradicate cheats. SUPER@ prides itself on providing clean, balanced and fair environments for our welcome players to enjoy.
2011 and the much anticipated release of Battlefield 3. SUPER@ now hosts 5 extremely popular BF3 servers. Our Operation Metro server has reached the heady heights of No.11 (of over 20,000) rated server in the world and ranked No. 1 in the UK.
So that is how the Super@ clan was born.

Mission statement: Clan Leader Templado
Super@ is an international clan with members from all over the world, from different countries, races and creeds. There is no racism or prejudice in our clan. Everyone is welcome no matter where they are from. We try to find the peace and respect that doesn't exist in the real world.

If you wish to join our community, make new friends or join the clan as a full member then you are very welcome to visit our forums at www.superinfantryclan.com and don't forget to say hi.
Platoon-Feed
Keine Ereignisse zum Anzeigen vorhanden