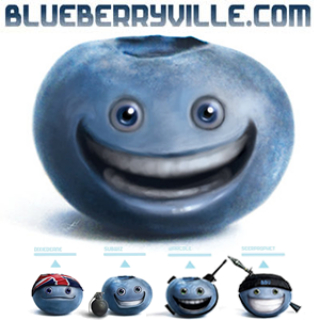 Platoon-Präsentation
What is the Purpose of Blueberryville?
Plain and simple a site to meet and chat with fellow Battlefield players, we are NOT a clan.

Why Blueberryville Name?
If you don't know what the term Blueberry already means then this site might not be for you. However, Blueberry is a term given to members of your team (not squad) in the Battlefield series of games. Team members are displayed on the map with a small blue triangle above their heads, somehow, someone coined the phrase 'Blueberry' and it stuck.

Benefits of Joining
1) Access to our members only forum
2) Squad up with some great players, yet still retain your clan tags
3) Clan Leaders have the ability to submit a listing request to recruit new members
4) No Advertisement clogging the site
5) Custom BF3 stats banner created how you want it (or as close as we can get) for free! Limited availability
6) Other stuff we are working on but not yet ready...

Becoming a Member
All are welcome to join our site, however be warned...we don't take crap! If you've been removed from another clan, or somehow always find yourself in the middle of arguments and don't know how you end up looking like the bad person, then I have news for you...don't bother applying.

Oh yeah, no promoting your own platoon on our feed, we have a section on our forums where you can promote your platoon/clan.

Now with that said, if you are a chilled out person, enjoy chatting to Battlefield players regardless of their clan status, you are ripe for the picking and we would love to have you as an active member.

Visit www.blueberryville.com

Don't forget to add the admin members to your friends list on Battlelog so we can comment on your posts, thanks!
Platoon-Feed
Keine Ereignisse zum Anzeigen vorhanden