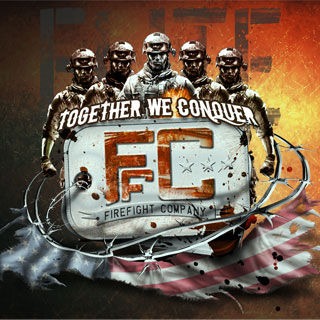 Platoon-Präsentation
[FfC] Firefight Company
------------------------------------------------------------------------------------------------
The official Firefight Company platoon.

We're a tight-knit group that has been gaming together for over three years now. We pride ourselves in having the best balance between competitive and casual gaming. We have a comp team, a media division, a killer website and just some of the best guys in the game. Whatever brought you here I'm sure you can find the answer below.

Join us on our community page. All are welcome to join and get insider information, work out tryouts, setup comp stuff, get breaking video releases, and much more:

http://battlelog.battlefield.com/bf3/platoon/2832655240989665158/


FfC Leadership and members
------------------------------------------------------------------------------------------------
http://www.firefightcompany.com/showgroups.php


To Join the FfC
------------------------------------------------------------------------------------------------
You MUST fill out an application
http://www.firefightcompany.com/forms.php?do=form&fid=1

Our Recruiters:
FfC-Th3_Butcher: http://battlelog.battlefield.com/bf3/user/FfC-Th3_Butch3r/
Yoursix: http://battlelog.battlefield.com/bf3/user/YourSix/


Follow us, watch our videos and keep up to date
------------------------------------------------------------------------------------------------
Youtube: http://www.youtube.com/user/1080PixelGaming (Parent Channel)
Youtube: http://www.youtube.com/user/FfCHDTV


Twitter: http://twitter.com/#!/FfC_Clan

FaceBook: https://www.facebook.com/FirefightCompany


Servers
------------------------------------------------------------------------------------------------
We have a bunch of servers within the clan. Search "FfC" to find a list of FfC servers.

We pride our self in great servers, never kicking anyone (except here and there to make space for our own) balanced teams, and just great games. So join them today!


Scrimmage the Firefight Company:
------------------------------------------------------------------------------------------------
Contact: FfC-Th3_Butch3r (12 v 12's and 4 v 4's)
Email: FfC-Th3_Butch3r@firefightcompany.com
Skype: scans007 (please note in the FR that you came from BL, or you will be denied)

But for quickest scheduling and match priority fill out:
http://www.firefightcompany.com/forms.php?do=form&fid=2

----- Upcoming Matches ----------------------------------------------------------------

On Leave from Matches until further notice

----- Record/Scores ----------------------------------------------

Coming 2013

---- Clans Faced In the Past ---------------------------------------------------------------------------

FK, MKA, DOB, SHBX, TED, tyoC, ADS, tBx, NCBV, TG, cF, IC, LGN, TLN, A1, IvA, LIC, RISL, FiL, iLL. DBD

----------------------------------------------------------------------------------------------------------------------------



Platoon-Feed
guys hit me up on PSN im adding any and all FfC members that want to play the beta with me

anybody else a bit dissapointed with the lack of everything in battlefield4?

1 weitere anzeigen ...

FoohTheOtaku

im not playing it anymore, im waiting till release so i dont cry before the game is released

HURRAH boys. BF4 is just around the corner! Hang tight we will be united and strong! For those of you that are getting BF4 out there for the PS4. Send us an application on our website. We are looking to increase our numbers since the player count for consoles has skyrocketed and is going to require more squad members for some heated battles.

FfC Just gave away a PS4, PS Vita, and BF4 copy to 3 lucky winners - Glory, Capt, Cheese - Congratz guys, contact me so I can get your stuff to you. You have 1 week before they go back into the raffle pool to go to another home ;)

1 weitere anzeigen ...

Seloe_1

WOW! CONGRATS to the winners!

FfC-Th3_Butch3r

FfC does it right - if you are looking for a BF4 clan on the PS4 - go apply at www.firefightcompany.com

FfC event this friday, sign up is open, sign up located in the website forums!

do we still do clan matches

4 weitere anzeigen ...

FfC-Th3_Butch3r

We haven't decided on beta - some are wating as they dont' want the exp be'n ruined by PS3, some are beta'n on PC, some are beta'n on PS3. So we'll see.

FoohTheOtaku

whats your deal? you waiting for full release or do you wanna pub stack with me haha

T-Minus 5 days fellas.....