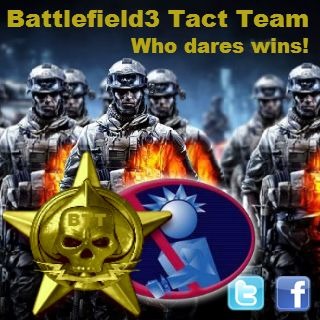 Platoon-Präsentation
This is the right place to be if you:

- Are a teamplayer.
- Would do anything to win. (no cheats offc)
- Like to use tactics.
- Love BF3 as it is supposed to be.
- Be a member of a exclusive team.
- We are a ANTICHEAT platoon
- To be a leader you play with the BTT tag.

If you like this and you'r stats tells us that you are a teamplayer we would consider YOU for BTT!

IN BATTLEFIELD 3, EVERYONE HAS A ROLE TO PLAY. SQUAD UP AND STICK TOGETHER TO OUTWIT AND OUTMANEUVER THE OPPOSITION.

FACEBOOK:
http://www.facebook.com/pages/Battlefield3-Tact-Team/351852878231246

BF3 server: http://battlelog.battlefield.com/bf3/servers/show/39c41893-b4e8-49ab-8e3a-494342ea4a65/BTT-server-stock-Canals-TDM/
TS server: ts23.gameservers.com:9349

To get the admin password to the BF3 server and TS, send an e-mail to: xiznor@hotmail.no
Goes for all squad members.


Platoon-Feed
Keine Ereignisse zum Anzeigen vorhanden