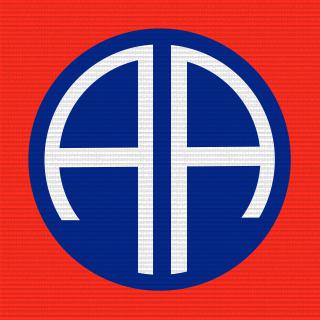 Platoon-Präsentation
The 82nd Airborne Division is an active airborne infantry division of the United States Army specializing in parachute landing operations. Based at Fort Bragg, North Carolina, the 82nd Airborne Division is the primary fighting arm of the XVIII Airborne Corps. The 82nd Division was constituted in the National Army on 5 August 1917, and was organized on 25 August 1917, at Camp Gordon, Georgia. Since its initial members came from all 48 states, the unit acquired the nickname "All-American", which is the basis for its famed "AA" shoulder patch. This excerpt taken from US ARMY Fort Bragg website. http://www.bragg.army.mil

OFFICIAL PRESENTATION:

Hello. I am white-feather_6. I am the commander of the 1st Brigade Combat Team of the 82nd Airborne Division in Battlefield 3. I am looking for people who work as a team, and play tactical, is that you?
If you want to join, you must be at least 18, have a headset, and you have to be an 'all-around soldier', which means that you can fly jets and helicopters, drive tanks and jeeps, be an assault soldier, an engineer, a support gunner and a recon soldier. The [1BCT] clantag is required while deployed as a member of this platoon. Displaying the 1BCT clantag prior to authorization will result in rejection or dismissal. Membership is automatic approval for display of clantag. As an Airborne unit, all members are required to achieve and maintain "jump" certification in BF3. There are no Hollywood jumps during qualification.

As an active airborne unit, our soldiers will initially join each battle by jumping in. "Tailgate jumps" are acceptable if no aircraft are available.

The primary objective of 1BCT is to strike an objective, capture it, and hold it indefinitely.

If you want to join, you may apply here. I hope to see you on the battlefield fighting next to us soon! Additionally, 82nd Airborne Division enjoys a dedicated server, and PSHome clubhouse. My soldiers are also welcome to take R&R at my PSHome island after a successful deployment.

Yours faithfully,

Commander white.

We make Paratroopers. We win our nation's battles. We develop quality citizens. These are the promises the Airborne makes to our nation and to our Troopers. They are the reason for our demanding recruit training process. They form our reputation as America's Guard of Honor and this is evident through the reciprocal commitment, between the Trooper, the 82nd Airborne, and the 1st Brigade Combat Team. This forms the basis for our motto. Currahee is a Native American expression that means "we stand alone, together" and it exemplifies the Airborne paratrooper.

Platoon-Feed
Now that the beta is over, I can say that 82nd will have a presence in BF4, but primary deployment will remain BF3

Everyone please welcome liquidsteel1985 as leader of delta squad.

I am considering weekly or biweekly rollcall so we can have a consistent established meeting day / time. I'm thinking Sundays at 5 PM? Let me know what u think

Fellow troopers. I sincerely apologize for my lack of activity the past few months. This summer has been excessively busy at work. As the weather begins to change heading into winter I expect my workload to decrease. As it does, my online activity will increase. I look forward to fighting alongside all of you soon, and I'm eagerly awaiting our opportunity to explore BF4 as a platoon. Sincerely, commander white

jarhead3270

I dunno', Comrades...did we miss this Trooper? BETTER fkn' BELIEVE WE DID...'SPECIALLY DOWN IN THE Métro !!!

After seeing the E3 demo of BF4 on the PS4....this platoon WILL be migrating and/or expanding to that platform as soon as I can make it happen!

jarhead3270

You're still gonna' come back to the bf3 field, though, right?

WHITE-FEATHER_6

Of course! Besides, it's not gonna happen over night. And the platoon will remain both BF3 and BF4

On behalf of the 82nd Airborne Division I would like to welcome chaoticxiles to the platoon!