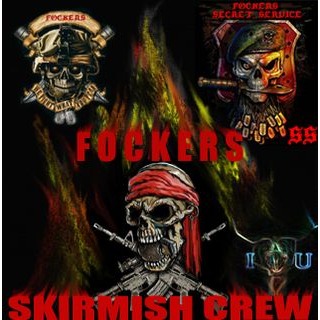 Platoon-Präsentation
IF YOU WANT TO KILL THE FOCKERS - FOC LETS TALK & MAKE A DATE :) FUN FOR EVERYONE IS A SURE THING.

MUMBLE VOICE SERVER
mumble://mumble.fockers-platoon.com:10009/?version=1.2.0&title=Fockers%20Platoon

If you do not use Mumble Voice there is NO chance that you ever make it into the SKIRMISH as communication skills with others during game play & out game conversation.

Always remember that the ZERT & the BOH are our allied Platoons & our alliance gaming Clans. In saying this the FOCKERS server has Admins from both ZERT & BOH watching the game play & attitudes of everyone show respect to everyone as you will be kicked or banned from any of our servers.

Thank you & enjoy the 64 player server
Platoon-Feed
Harlem Shake FOC version????

Remember lads we have that friendly 8v8 with Wolfpack this weekend. Baz and Siene. 12PM WST or 3PM EST

Hey lads, 8v8 TDM friendly planned with BIA. Times to be confirmed but it's looking to be this coming weekend if numbers can be sorted. I'd like the core of FOC: Vanguard available if possible but we'll take what ever is available when it comes down to it. Everyone in this platoon are fair active at the moment so I'll seek a reply over the next few days!

AZGD-Mordecai

Looks like this TDM is 12PM WA time tomorrow, wish I'd heard from them sooner but alas, it is not to be so. We'll see what we can pull together we have a full roster plus 2 reserves, ya'll know who you are and if you haven't see

2 weitere anzeigen ...

AZGD-Mordecai

Yeah buddy more or less, you should see a leave platoon option back on Social page. Also we have a friendly scrim on Saturday with BIA (TDM match), I'd have loved for you to play but I didnt see you online since we organised it.

And this is the link for those involved - http://www.cybergamer.com.au/team/121644/ Any one on this page go sling an app though - you will need to leave FOCKERS:Social if you are a Vanguard member!

So some have noticed I have culled the list a tad from the Skirmish platoon. Pls keep in mind platoon is for ACTIVE SCRIMMERS - if this involved you you are welcome to re-apply. For now under this banner are the FOCKERS: Vanguard our competitive division of the skirmish team and FOCKERS: Social. If you have been removed it's to reduce the current list to those that are in the Vanguard. RE-APPLY if the above applies to you!