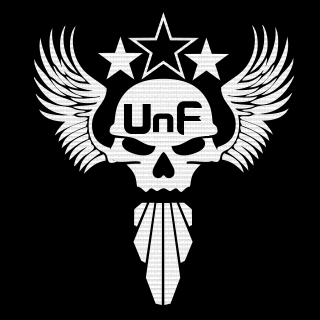 Platoon-Präsentation
To Join:

Apply on here first then when you're accepted head on over to Enjin and submit an app on there, picking the PC platform.

Must sign up on website
Wear tag as much as possible
Must be active on Battlelog
All members have 48hrs after joining to sign up on website
Post on platoon wall
Have a fully working mic
Preferably 18 and over but exceptions can be made under a trial basis

Teamspeak Server - eu1.fragnet.net:10117

Download your client from here:
http://www.instantteamspeak.com//teamspeak-download.php

Server:
http://battlelog.battlefield.com/bf4/servers/show/pc/11396fe3-7f9b-4bf8-ae5d-77d690b62bb6/UnF-Mixed-Mode-Adaptive-Server-Size-Ticket-Count-Rush-OB-TDM/

Recruitment Thread:
http://battlelog.battlefield.com/bf3/forum/threadview/2832654348570891674/

Enjin:
http://unfounded.enjin.com/

Can I ask any and all members to try their hand at recruiting through the forums if they have any spare time. Trying to keep it UK/Europe focused with an age limit in mind. And the only rule I ask is NO COPYING AND PASTING, make it personal and keep it light hearted. Also, link the the recruitment thread (link above) rather than the platoon page as there's not much info on here!


Platoon-Feed
If any of yous thought Nightfly was in charge think again, his boss joined the platoon 3hrs ago. Wait until you see how fast his balls shrink:p p.s. Welcome along Gem

ll-Nightfly-ll

Thankfully it's still only on the BF3 side so I still have one last thread of control to cling to! haha

Does anyone happen to have a UnF background? :)