Important: Update Close Quarters and Armored Kill on PC
trydling
7 years ago
In preparation for our next release, Aftermath, we are rolling out some updates on PC that are affecting Close Quarters and Armored Kill. Thanks to the delivery system Origin provides, all users should get these updates automatically.
We have noticed that under some circumstances the download is interrupted which can cause issues when trying to play your existing content. If this happens please follow the steps below to re-synchronize the files on your hard drive with those on the Origin servers:
First, in Origin right click on your Battlefield 3 image and select Show Game Details: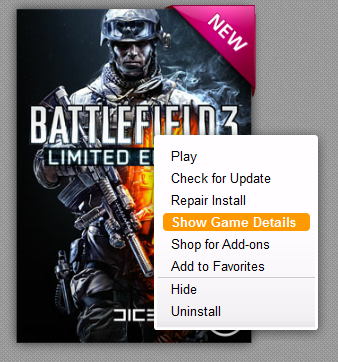 Next, right click on each expansion pack and select Check for Updates:



You may need to Check for Updates on both Armored Kill and Close Quarters:
Should Origin detect a difference between the files on your hard drive and those on the main system it will re-synchronize the files that are different. We do not expect anyone to require any major download and any file sync should be less than 1MB.