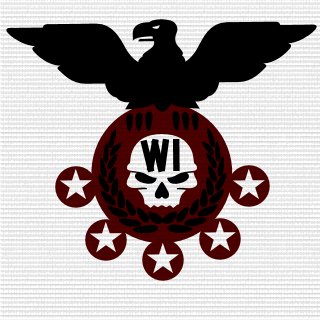 Platoon Presentation
-- MOTTO --
_________________________________________

"Domination through communication and coordination"


-- HISTORY --
_________________________________________

After the Persian Gulf War, the United Nations located and destroyed large quantities of Iraqi chemical weapons and related equipment and materials throughout the early 1990's. In 2003, The United States and the UK asserted that Saddam Hussein still possessed WMDs. This led to the second Gulf War.

The acronym WMD is commonly misunderstood in global communication. Once thought to stand for "Weapons of Mass Destruction", it finds its origins in the state of Wisconsin's history. Rooted in lore and local legend, the term "Wisconsin's Most Deadly" or "WMDs" references an army of warriors; supposedly originating from North America - around what is modern day Wisconsin.

After decades of bloody war, they suddenly vanished without a trace. Experts claim that a cataclysmic global event would have been the only thing capable of doing this, but no evidence has been found to support it. Most can agree that the warriors transcended into something else - spiritual beings perhaps. All anyone knows for certain is, long after vanishing, WMD have continued to wreak havoc across the world.

Much isn't known about how they operate, but most believe that they possess soldiers on either side of a conflict and hunt the enemy with relentless determination. In 2003, Wisconsin's Most Deadly is what the US was really looking for.

Now, in 2013, they are walking among the soldiers once again...


-- MEMBERSHIP --
_________________________________________

WMD is a platoon of varying play styles and skill sets. We range from competitive to casual. If you are interested then apply, but please understand the requirements:

1. Score Per Minute of 200 or more.
2. Must be Wisconsin resident.
3. Must be willing to communicate in a team environment.
4. Must wear WMD tags.* We are more than a battlefield platoon, we are a brotherhood united by our great state.

*Tags only required when competing. If you are in another platoon and from WI, we don't want to steal your loyalty from them but still give you the opportunity to be part of this. However, if you want to play on our competitive roster the tags are required.


-- WMD HORSEMEN --
_________________________________________

WMD Horsemen are members of the competitive roster. This means they will be first in line for skirmishes and matches.

http://battlelog.battlefield.com/bf3/platoon/2832655241292988555/
Platoon feed
So meatshield is kicking my ass in some leaderboard categories for wisco. Nice bro!

ThaMeatShield

2 months later - thanks man, I've been trying to play better for that reason. So I can make my presence known lol

Xbox is down. Won't be on for at least another week. Last update killed it.

Any mid day/evening gamers?

ThaMeatShield

Mostly evening. I haven't been on much this week due to work and... payday 2! I'll be getting back on though since nothing quite matches the intensity of Battlefied.

StuCha1ns

So true, I'm coming up on some time off. I'll add you.

Sup wisco! Superior resident here! Add me on xbl and battle log!

Show 2 more...

StuCha1ns

I got three other Wisconsinites that will join up near bf4!

I'm going to try and be on between 7-10pm again. It'd be great to get some other WMD on as well! I can't stress enough the difference it makes to have a squad behind me.

I'm going to try to be on tonight, between 7-10pm. I'm nothing without the platoon behind me! Let's see if we can get some WMD on tonight!

ThaMeatShield

Pocahotass and Tomarooski came through tonight. MidwestDeath was around for a game. It was great!

Got on last night with grass_man and pocahotass, we had some nice wins over some tough players. The night before, was on with midwestdeath and tomarooski, we also had some hard earned victories! That's what its all about! WMD!

Show 2 more...

grass_man53069

Thank you for letting me in. I look forward to playing with you all.

Well i've done it. Traded in the 360 and all games and accessories towards BF4 and a PS4. Its kind of sad to see it go but out with the old and in with the new I guess. I'll still be playing BF3 on PC. Most friends i've talked to about which console they'll be playing BF4 on have said PS4.... so guys, what console are YOU going to be making loud noises on?

Show 2 more...

andythered1

just gonna get both systems so i can play with whomever i feel like joining at the time. time to give sony a chance seeing as the online service for ps4 will require a subscription, maybe they won't go down for over 7 months aga

MeatCurtains

well i'm glad to hear that andy, was afraid we weren't going to be able to make people cry together.