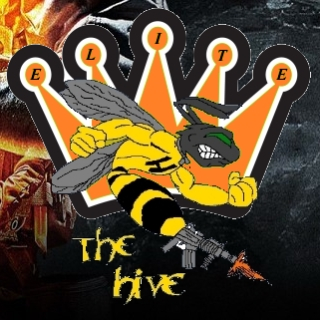 The Hive Elite
Tag:
[Hive]
Fans:
40
Created:
2012-06-19
Platoon Presentation
The Hive Elite is a part of The Hive Core, a large Platoon with Divisions across the globe.

Though there are many powerful Members found within the swarm, there are those who stand out.

The Hive Elite isn't about rank, rather it is composed of Hive members that possess skills and abilities that cannot be easily duplicated.

Members of the Elite lead the swarm into battle. Taking the initiative, and helping keep the rest of the Hive active.

*Hive Elite Requirements*

1. Here's a Hint: Play with Hive Elite/Core leadership!

2. Specialize. Each Hive Elite member possesses a key talent.

3. Participate in Hive Core/US/EU clan battles.

4. Communication. Be able to give and follow orders, but ONLY WHEN NECESSARY! Don't talk over people w/ BS and non game related subjects

5. Recruit. bring more members into the Hive Core. Increase the Swarm!

6. Wear the "Hive" most of the time.

7.Good Sportsmanship, have fun, and be prepared to laugh!

8. MAX NUMBER OF MEMBERS WIILL BE 24.

9. BECAUSE THIS IS THE ELITE YOU MAY BE KICKED IF YOU ARE NOT ACTIVE OR NOT PERFORMING
*------------------------------------------------------------*

Current Elite Specialties:

Officer In Charge [OIC]: Strik

HAM [Hard as a motherf*cker]: ErotkSalamander; xENDINGALOTx, Falkqwer

Demolitions Expert: r0__0w

Commanders of Air Group [CAG]: Adair ( Attack heli ), cLimeberry ( Jets )

Armored Cavalry Commanders: KillerLang, Num_Nutz

Close Quarters Combatant: TheLuckinator

Chief Medical Officer (Navy Corpsman): ZombieChowda

Chief Engineer: MajorGeneralPro

Assault Sniper: T-420-M

__________________________________

Hive Elite Membership is contingent upon membership in the Hive Core. All Hive Core Members can contact Hive Core or Hive Elite Leadership to apply for Hive Elite.

Platoon feed
There are no more events to show