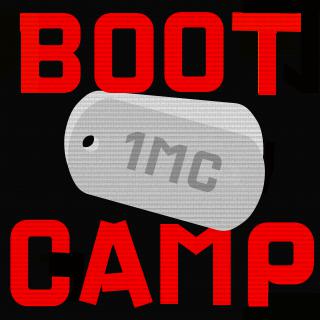 Platoon Presentation
This is the 1ST MARINE CORP BOOTCAMP. We are looking for loyal members that want to play together. I don't care what your rank is. Im looking at how you work with a squad. Do you stay with your squad? Do you pay attention to what class you are versus what your squad's class is? Not really looking for camping SNIPERS. Solid infantry needed mostly. Need members to play the objectives.

Once your Kill death ratio is a 1.0 or higher, you qualify to join 1MC, change your tags & participate in 1MC Clan matches. I watch closely & keep track of all stats for every 1MC & 1MCB.
Until then Marine, we want to see you joining the fight & training under our veteran 1MC members.
Do your best & please act like adult.

ONE RULE:
You are expected to wear your [1MCB] tags at all times.
Platoon feed
I would send Kevin Fisher a message. But He is not on my friends list. I hope your cool new clan treats you good.

Hmm at wKw stats, I'm the top jet pilot with 300+ spm, but at 1MCB Kevinfisher has only 150+ spm. F**k logic.

Show 1 more...

Hannibal_Lect3r

*****ATTENTION BOOTCAMP MEMBERS***** I WOULD LIKE TO ARRANGE A SCRIMMAGE. ONLY BOOTCAMP MEMBERS ARE INVITED. IF U ARE INTERESTED PLEASE "HOOAH".

Everybody give me your PSN ID's so we can play together.

Can't play ATM cause my controllers battery is empty and I lost my cable + I don't have time: need to help my grandparents.