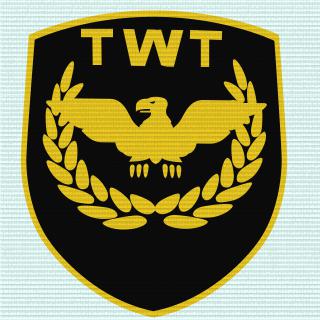 Platoon Presentation
Welcome to Tactical Warfare Team
This platoon is all about playing the objective and winning as a team.
We show respect to our members and other platoons.
______________________________________________________________________________
Requirements:
-Rank: Colonel 10+
-400+ SPM
-K/D 1.00
-Maturity
-Skill
-Respectfulness
-Play the objective
-Wearing our clan tag [TWT]
-Loyalty within the Platoon
-Activity on BF3 and Battlelog
- English speaking.
-Mic
______________________________________________________________________________


Commanders:

Andreas Rank: General
tooshjr Rank MAJ
BamBamJr_23 Rank 2LT
Esu Rank 2LT
Ali 2LT
______________________________________________________________________________

***MATCHES RECORD***

-TWT VS TDM/ T7SN 5-0 Win

-TWT VS RASE 4-0 Win

-TWT VS HIV 3-0 Win

-TWT VS MAV 2-0 Win

______________________________________________________________________________



TWT CREED:

I am an TWT Member
I am a Warrior and a member of a team.
I serve the leaders of the TWT Clan and live the Army Values.

I will always place the mission first.
I will never accept defeat.
I will never quit.
I will never leave a fallen comrade.

I am disciplined, physically and mentally tough, trained and proficient in my warrior tasks and drills.
I always maintain my arms, my equipment and myself.
I am an expert and I am a professional.
I stand ready to deploy, engage, and destroy the enemies of the
TWT Clan in close combat.
I am a guardian of freedom and the way of life
I am an TWT Member.

______________________________________________________________________________

Divisions

Infantry:
http://battlelog.battlefield.com/bf3/platoon/2832655392023332218/

Armour:
http://battlelog.battlefield.com/bf3/platoon/2832655392023347274/

Airborne:
http://battlelog.battlefield.com/bf3/platoon/2832655241727692587/

Platoon feed
Show 1 more...

TheBlackyDragon

insane bro insane, and now im not playing at all anymore...

Gosh, thought I'd check back on here...seems so long ago since we were all squaded up with each other. The good'ol days <3

hello whats up its been a while since i even logged on here but how are you all doing ?

Checking this site once in a while gives me nostalgia :D

does anybody still have this? we should get some kind of reunion nite together

https://www.youtube.com/watch?v=dvgZkm1xWPE

Can I create a TWT platoon fo PS3, or leaders will do?

I just want to ask how many soldiers do we have in BF4 on PS3? I know that it will not be a big number. And becaus of that I want to ask if the leaders agree with me as a new Recruitment Officer for PS3. Just let me know if you still want PS3 players as a part of TWT team, if yes I'll start with recruiting.