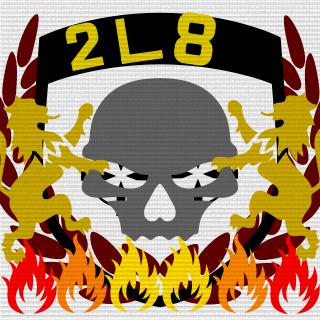 2L8 Re-born
Tag:
[2L8]
Fans:
14
Created:
2013-06-10
Platoon Presentation
2L8 Has had it re-birth!

After a while of nothing happing members of the old 2L8 platoon decided to get it back on its feet and get back out there. if you are EX 2L8 you will know what we do!

But if you are not, we are a hardcore no map platoon and hope to get back in to the competitive scene! it dosnt matter on you're class to much, squads might get set up so you know what you are to do in scrims if we get back there!

But for now we will stay back and get our self tided up and back in to the spotlight! the place where we should have been!
Platoon feed
DEFIB_MASTERRACE

Dont know dude, not heard of anyone for a while now, try dig an answer from anyone in the platoon

sorry i havent really been active much. i got bored of B3 and my PC is FUBAR the thing wont even start up anymore.

Show 5 more...

Feisty_Gremlin

deece stuff! never played talking to a buddy, is it much better? bear in mind im not that good yet, and get a few issues trying to join games ( the 'this server is now running content you dont have' issue )

Do four of you guys want a be in a SQRUSH scrim tonight? im trying to find out times at the moment

Carry on bumping the form. http://battlelog.battlefield.com/bf3/forum/threadview/2832654490289393741/1/last/

So i have been asked about some squad rush, i have one guy already wanting to be in the team, can you tell me if you want to be a part of this? it is just some practice its not a league match or anything just a friendly scrim against aG

Feisty_Gremlin

Obviously I'll do it ( posted about it a wee bit back after all ) assuming my laptop lets me know that there's actually a post/messages about it haha

SO as we know Dododo is still living and is thanking us for keeping 2l8 going, if he gets back to Xbox gaming i hope you will humbly greet him back into 2l8 as a leader, as we all know its not the same with out that man. Any way , i have the Xbox back, tell me when you will be on line and i will try organised some team games (not scrims we aren't ready yet) so we can practice as a team

Show 1 more...

SackDragg3r

You know hes welcome back at any time just get ya finger out about it