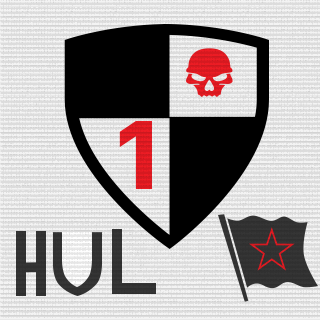 Platoon Presentation
Hardcore United League prides itself in being one of the only core and hardcore game mode leagues where clans can battle it out on multiple game modes to determine who is the best. All teams are welcome to join before though we ask you check out our official webpage to see our rules and clan listings.

------------------------------------------------------------------------

Battlefield 4 Teams:
Team Defiant (0-0)
Forgotten Soldiers (2-0)*
Deth Dragoons (0-1)*
MonstaZ (1-0)*
Casual Gamers Competitive team (0-0)
DvN (0-0) X1*
Team Trademark (0-0) X1*
Evolution Gaming (0-0)*
NHEP (0-1)*
Heavy Resistance (0-0)
The Dutch Incognitos (0-2)*
Team Evolve (0-0) X1*
Double or Nothing (2-0)*
Murder Death Kill (0-1) X1*
KozmyK (1-0)X1*
XposeD Gaming (0-0)*
* = defuse season participants
X1* = Xbox one defuse participants

------------------------------------------------------------------------
Clan contacts:
Team Defiant:
SMKA OLD SMOKEY
XE MintyFresh

Forgotten soldiers:
SCB SILENT ACE
Cuts Deep

Deth Dragoons:
ZOOLOG1C
Bill Brasko

Casual gamers competitive team:
SCB aggrotomcat
IllVsI0n

MonstaZ:
MonstaFrag
Just the Kidd

DvN:
DvN Dirty
DvN Exo

Team Trademark:
oOMr BankruptOo
oOMsRockstarOo

Evolution Gaming:
EG DeathReaper
EG Blitzkrieg


NHEP:
NHEP N00bHunter


Heavy Resistance:
HR Recker
signatoryninja

The Dutch Incognitos
Jamoonah
oldkid00nl

Team Evolve
NoThumbs xD

Double or Nothing:
DoN ChRi5
Double or Nothing2:
DoN ChRi5

Murder Death Kill:
II Foxhound

KozmyK:
KzmK HazBro
WeenerWings







Platoon feed
Any teams up for a defuse scrim tonight? no more fucking about mannnn

Show 3 more...

xBaTTLeCRY

When rew gets it so ask him but I should be on the box this week

https://www.youtube.com/watch?v=7J5drCFRBtM

anybody up for a pick up match tonight? try and get 10 guys and split teams, for a little friendly scrim?

Show 6 more...

XxCooKiEx

they got a defuse ladder and sqrush ladders

FLeXZoNE_EU

i knew they had a sq rush ladder, only knew about the defuse ladder today

Um...is this still going on for Xbox One? KozmyK is all geared up and ready to go whenever somebody wants to scrim. Tick Tock.

Anyone down for a friendly scrim this weekend coming drop me a msg

Show 8 more...

FLeXZoNE_EU

any news about this? have you got a team to play? or you want to play my pick up team?

Saturday 15th - 5 PM est - TDI vs FS - Good Luck!

TDI is looking for a scrim thrusday 13th....anyone?

DoN are looking for a scrim tonight if anyone is interested, only a freindly as we dont have our competitive team all online as they are competing on the X1 tonight

Show 2 more...

SCB_SILENT_ACE

i wont be on this weekend most likely but ill have another guy set one up with you

Domini Preditionis down for a game tonight contact ripshot1321 for a challenge.