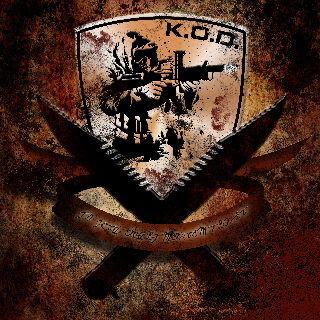 Kill On Demand
Plaque:
[KOD]
Fans:
53
Créé:
28-10-2011
Présentation de la section
~~Welcome To K.O.D.~~
WE ARE A CLOSE GROUP OF SOLDIERS, SOME OF WHICH HAVE BEEN PLAYING TOGETHER SINCE 2009. THIS IS OUR CLAN DON'T LIKE IT OR A MEMBER, DON'T APPLY!!

WE PLAY FOR FUN, WE DO NOT CARE ABOUT STATS HERE. PLAY AS A TEAM AND WATCH YOUR K.O.D BROTHERS BACK AND YOU WILL FIT IN JUST FINE.
Feed section
For those who are not on ps4. We are still here.

Brothers. I know we have been split between systems due to whatever issues we have. That should not sway this clan apart. We have been together for a long time. We have lost some very good players due to this. That should never happen. We always need a leader and the clan to keep on no matter what system or version that we are playing. We are all brothers and should remain no matter what. Love u guys

Hey. Has anybody seen My profile coming online?!?!?! I'm not able to sign into my account. I've think It's been hacked.

We stand United I thought. Hooah.

K.O.D is and still here. Anyone else want to follow I wish the best. I will not let us brothers fall.

it was a fun ride fellas but im not getting ps4 any time soon. long story short im looking for a new clan on ps3 so I have team mates to kill with and I gonna delete my profile and friends list and start over. no offense to anyone, we don't game together anymore anyhow.

LeoSantos993

Shit man, I could have gamed on my PS3 with him if I knew it was that bad :/

Hey brothers, really miss you guys and miss showing those noobs out there what we're made off by kicking some names and taking some ass! The PS4 is getting closer, I can feel it and along with it will come BF4!

LeoSantos993

Indeed man, I miss playing alongside my brothers, taking tags and teabaging some noobs

KILL ON DEMAND!!!!! What's up my battlefield family. Just got out of jail and lost everything I had. OH well. Just thought i give a update on my status. Hope ya'll are still whooping ass.

Voir les 1 commentaires suivants

Valid420

Yea, Things are going good. Got a job and rebuilding.

PS4 BF4 64 solider Conquest maps are frackin awesome. The same maps you have been playing now have twice as many flags and many more vehicles, boats, plans and choppers. The details are great and now there are just more of everything. Gets overwhelming at times if you get targeted by 32 soldiers but that is what it's all about. I hope more of you can come get some.