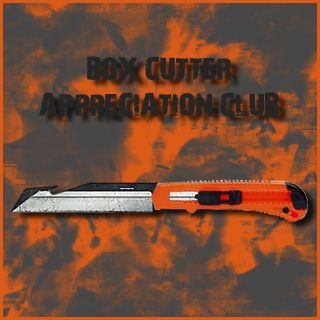 Box Cutter™
Plaque:
[BoX]
Fans:
56
Créé:
07-07-2012
Présentation de la section
Welcome to the BoX Cutter appreciation club.

PLEASE RESPECT ALL PLAYERS, AND ALL CLANS.

We're not a real clan, just people who appreciate the stupid box cutter/ dive knife thing EA/DICE has decided to make us use.

Please do not change platoon emblem.

Being former Marine Infantry I can tell you that NO experienced Marine would EVER carry something like this into the field.

Don't forget to check out our Official Website.

ORIGINAL MEMBERS-
Viper797, chicken_nublet, xDEADBOYx, Lady-Vile, higgyBiscuit, MississipiPsycho, QuincyAdams, PEves, GazerKamachi, -S0F4_K1NG-, MrLawless, TheTargetSheriff , PhraggBF3, Linchpinn, FuryX1013, TrapDoorSpiderME, NumbaOneGunna, SWAGDOESNTHACK,

Thunderstorm!