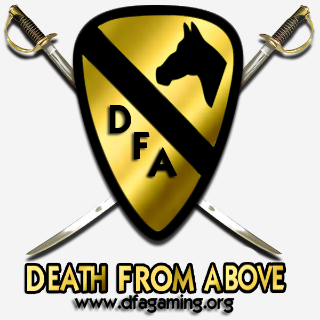 Présentation de la section
!!! Applying to the platoon isn't enough. In order to join, you need to register for the Battlefield branch at http://dfagaming.org/bf360recruitment !!!

"Playing as casually as victory permits, using professional teamplay in a casual atmosphere of maturity, integrity and respect."

Founded: March 2010
Nationality: International
Member ages: 18 +

______________________________________________

-= Recruitment =-
If you wish to join, please access our official website (www.dfagaming.org). Applying to the platoon here does nothing, you need to file an application on our website.

Minimum kill/death ratio: 1.50
Minimum score per minute: 300
You need to be an excellent teamplayer.

You need to be 18 years or older.
You need to have a mature attitude and conduct yourself with integrity.

We require excellent teamplayer attitude from the beginning, and expect a good skill level at time of application, but look for great potential above all else.

-= Competitive =-
- Clan match history
http://dfagaming.org/bf3competitive
- Tournaments
(BC2) 1st Place, FraggedNation Squad Rush Knockout Tournament
(BC2) 1st Place, M&G Tournaments 12vs12 Rush

______________________________________________

Please access our website to find our forums, more information about the clan and our competitive branch, to apply,
and/or to visit our facebook page, YouTube channel or other resources.