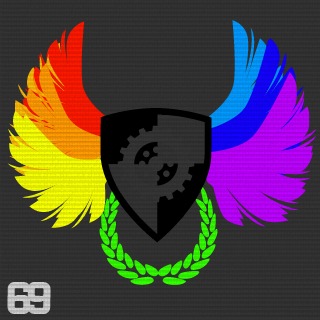 Présentation de la section
To anyone looking to join, not as many of us play BF3 anymore but a few still do every so often. So apply knowing you won't be gaining a massive amount of new people to play with. Also some of the people who do still play have switched over to PC.

We make decisions as a group. I would leave a description, but the emblem and name is pretty self explanatory. Nipples. But overall all we want here is a fun happy environment for the platoon members to enjoy and play Battlefield. FIGHT FOR CAKE....DEMAND CAKE....EXPECT NOTHING LESS THAN CAKE. How to change Clan Tags: Step 1. Click on "edit profile" (Top). Step 2. Under "Gravatar " there should be a spot to type in a platoon tag. Step 3. type clan tag (RSc). Step 4. Save Settings. ლ(́◉◞౪◟◉‵ლ) Y WE AWESOME PLATOON? -Rainbow Silver Club ALSO, due to a majority vote we now request that you be at least somewhat active with both the platoon members and battlelog. PS: Must also enjoy eating roofing tiles, riding alligators, and licking random stranger's face and/or jail cell bars. I'm sexy. And my Cake knows it. And it may be filled with honey.
Feed section
Damn, where did the time go?

Well lads? Any one still active. Sad to admit but I still miss the BF3 days.

21Scalawag

damn murphy, it's been a while, whats up?

happy rainbow silver club day

Did anyone get BF4 for next gen or PC?

Voir les 1 commentaires suivants

senorjerome

I nearly done building my computer! Finally...I'll see you guys online possibly this weekend.

heys guys! I set up a youtube channel with my friend Chris, we mainly do lets plays. If you have some spare time be cool if you would check it out and maybe watch a video ->http://www.youtube.com/user/ChrisAndConPlay?feature=watch

Voir les 17 commentaires suivants

senorjerome

Get on this shit alpha! Finals are not a real excuse

Alphamurphy

I would be uploading but my internet is way to slow compared to my house down in college, my upload time here is over a 1500 minutes up here

BF4 is pretty fun but buggy at times :/

Voir les 8 commentaires suivants

senorjerome

You can probably build a great computer in a couple years that will last as long as the next gen systems last. I went with an AMD processor. If I was smarter, I probably could bought everything for about a hundred dollars more

21Scalawag

All I really need to update is the CPU and GPU. But since I can run BF4 with at least 60 FPS, I'm not in a hurry.