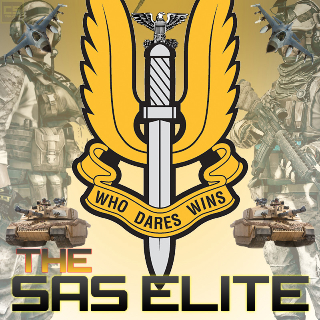 THE SAS ELITE
Plaque:
[SASE]
Fans:
0
Créé:
10-10-2012
Présentation de la section
CURRENTLY LOOKING FOR SCRIMS

Founded by Human-Flesh_111, Co-Founded by KiwiCommander15.

1st leader: Human-Flesh_111
2nd Leader: Skinnedelbows
3rd Leader: KarpetBurnz
4th Leader: Kiwicommander15

Our Ally platoons are NZD (New Zealand Demons), DsG (Dualshock Gaming New Zealand) and Aeon Kings.

▬▬▬THE SAS▬▬▬

This is the competetive team for THE SAS Recruitment Pg. The members here will compete in all of the scrims. Please set your tag to SASE. If you have not set your tags in 48 hours since you have joined, you will be kicked. There is an exception is you have messaged Human-Flesh_111.

-Bump the following thread as much as possible.

http://battlelog.battlefield.com/bf3/forum/threadview/2832654348267142040/

Speed Art for SAS ELITE Platoon Emblem (By Kiwi_Veteran) CS Graphics™, ©.
http://www.youtube.com/watch?v=sLsGljYbNZ0

▬▬▬PRACTICE▬▬▬
Add KiwiCommander15 and Humanflesh_11 so we can easily play with you and squad up! 

▬▬▬SCRIMS▬▬▬
Signup: https://docs.google.com/spreadsheet/ccc?key=0An2PNzT8RJlldHdTR0x6eUI0WXdqMHNvdlBBRVBjU3c

Also add KiwiCommander on PSN so you can join off me.


-Who Dares Wins.


Feed section
It's been fun, cheers boys.

Sorry that i haven't been active for a while. Ive been doing other things lol. Looking to defiantly get back on the horse, especially since Aftermath comes out.

SASE vs. eZy....result: failure :'( lol

Voir les 4 commentaires suivants

blackoutTyphoon

at least we were close to arming the objective in the first round lol

Current soldiers for our scrim today:

Guys we need alot more for our scrim on SAT, signup if you wana be in it :)

im gonna postpone the scrim. cant Charlie remember what i said? im busy with other games right now... *facepalm*

Voir les 9 commentaires suivants

If you want to do scim vs eZy, comment your username on battlelog and PSN name - https://docs.google.com/spreadsheet/ccc?key=0An2PNzT8RJlldHdTR0x6eUI0WXdqMHNvdlBBRVBjU3c

Voir les 10 commentaires suivants