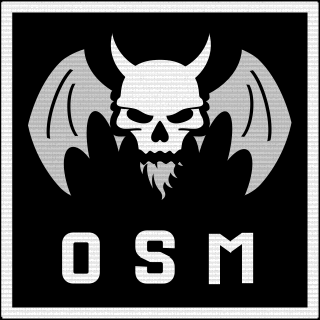 Présentation de la section
We're a platoon that values teamwork, fairplay, and clean and balanced stats.

WE ARE RECRUITING!

We're looking for casual players with decent K/D ratios, W/L ratios and a good few hours played. A focus on teamwork and looking out for your squad is a must!

We have a 400 ticket Team Deathmatch server running Seine Crossing 24/7 - if you can help keep it populated as often as possible, you're welcome to join our platoon!
Feed section
http://battlelog.battlefield.com/bf3/servers/show/pc/0b992aaa-085d-4f3a-a83f-a16d714e53b7/Old-School-Metal-Kharg-Island-Conquest-24-7-900-Tickets/ Who is the owner of this server?

IMPORTANT ANNOUNCEMENT: This will be the last month we will be running the server. On November 10, current year, the OSM server will shut down for good. Effective immediately, we will no longer be accepting members to the platoon or adding reserved slots to the game server. The reasons include: [1] a loss of real interest in BF3 on my part (I'm working harder, had to deal with a death in the family, and I have health and financial issues to resolve), [2] the degradation of the BF3 player base (a.k.a. people constantly bitching like prepubescent kids, an increase in new cheaters, a shift in meta after the game went cheap or free on several occasions, hindering variety – some might recall us running different maps / DLCs which at one point kept us playing; that's no longer a viable solution) [3] a decline in the quality of technical services (as you know, from the beginning, we've implemented several anti-cheat methods and actively administered the server – this has become too much

Lt_Lazlow

[the message got truncated, here's the rest] of a hassle in the past year, with solutions breaking, constantly disconnecting us or becoming ineffectual) This isn't a decision I've taken easily and overnight. But it is fina...

Ace_Hunter_S

thnx for all two years man...It was a great game and a great server to play on...Everything have an and....Its time to looking forward and see other games for more interest.....

https://gyazo.com/a78dc269c3908059b7daa536f17c839b just look at this,you will see that no need words for this cunt

Voir les 5 commentaires suivants

efes_ATMACA

bastard. put all the colonel 100s in his team. let me play with newcomer and when i killed him he kickin me :DDDDDDD

efes_ATMACA

last time i asked him for what he do this. he was angry and switched in the other team. but waited only near hotel :Dabout half hour :D

haha. that noob xtreme kicked me from server. because i killed him 5-6 times in a round. FEAR is a big problem for that guy. i thing in his real life is he only a big loser. :))))))) with zelto he hacked now he is admin and can ban or kick us :DDDDDD

Voir les 4 commentaires suivants

Girlyman01

Same thing happened to me 2 weeks ago....

i've never seen son of bitch like you(zelto or extreme)and as i said in game "you dont have brain",omfg you live with only spinal cord.

,,JustLimitless''- I warned u several times back in the days! U allways Corner, tunnel camp,(specially at riverside with IRNV! this server is full of campers and if u quit i just tnx!!! Also admin decision is not there u just copy pasted there XD I had enough of you're chat spamming and camping! I end this from now u can write here all day, trust me noone cares byee

Game disconnected: you were kicked by PunkBuster. Stated reason: PunkBuster kicked player 'JustLimitless' (for 1400 minutes) ... BC2! Reason 1 (_Xtreme-Eclipse_)" [Admin Decision]

JustLimitless

everybody knows me im not camper,this "son of bitch"(especially i used) killed me using admin rights throughout the round(cause i fucked his big ass),and im tired of this shit so i left from this game,i hope you have fun with th...