Battlelog update brings improved search and forum pagination
trydling
6 years ago
Today's Battlelog update sees two updates we wanted to tell you about. One is the new and improved search functionality in the Battlelog forums.
Improved forum search
Now, you can filter by title, time frame, game, and language. You can also select to sort your results by either date or relevancy. Our search engine will also suggest similar words when you search for something, for example if you misspelled a word. We hope that this improved search functionality will make it easier for you to find the right threads to discuss the game.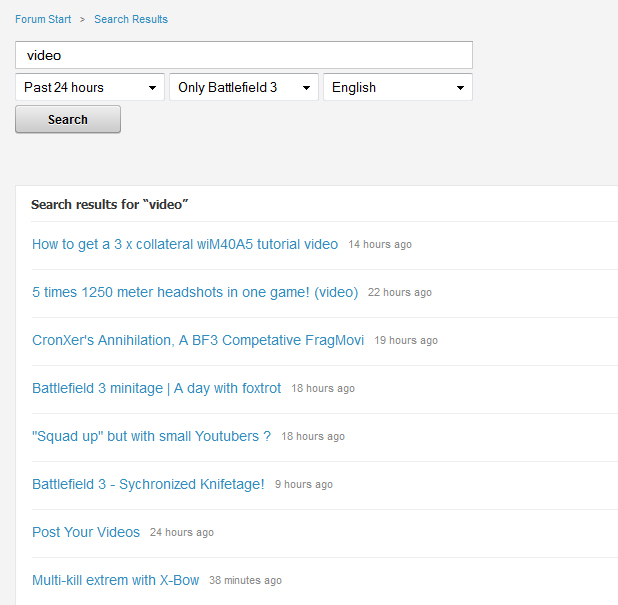 Forum pagination
Introducing forum thread pagination. Each thread in the forum will have its own pagination, so you quickly can go to the first or last page or somewhere in between.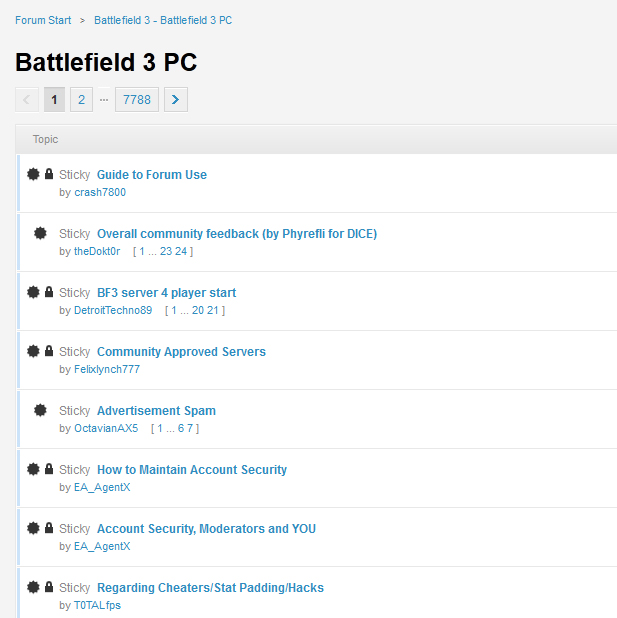 Battlelog issues fixed in this update:
Drop Zone bug
Fixed an issue where you couldn't drag and drop a friend in the Drop Zone.
Chat input lost
Fixed an issue where your chat input would get lost if you were typing a message while your friend joined a server.
Messages from "offline" players
Fixed a bug where you could send a message to a player and your status would incorrectly be shown as "offline" even though you were not.
Unable to enter friends profile pages through Com Center
Fixed an issue where you couldn't press your friend's name in the Com Center to be taken to that person's profile page.
Unable to edit soldier image
Fixed an issue where players with a large number of soldiers couldn't edit their soldier image.
Quick Match information getting stuck
Fixed an issue where sometimes the Quick Match information or other tooltips would get stuck on screen under certain conditions.
Scoped crossbow loadout
Fixed an issue where sometimes the Engineer and Recon scoped crossbow loadout wasn't saving properly into the game. Also fixed an issue where the crossbow would show up in the wrong placement under Loadout.
Battle Report comment count
Fixed an issue where the Battle Report comment counter incorrectly stopped at 10.
Scrollbar appearing when hovering Group Chat options
Fixed an issue when hovering over the options button for Group Chat where a scroll bar incorrectly would appear.
Game activity feed
Fixed an issue where the Game Activity Feed wouldn't show images in the feed if you left the homepage open and your friends were completing games.
Co-Op browser navigation
Fixed an issue where you couldn't use the browser's "back" functionality from the Battlelog Co-Op page.
Disappearing Game Manager
Fixed an issue where the Game Manager would incorrectly close down if you had closed it previously, then rejoined a server.