Battlefield 4 Commander App – Out Now on Android and iOS
UPDATE 04/28/15: We are no longer supporting Commander mode on mobile platforms. For more information, please read here.
If you're curious on Battlefield 4 and its Commander Mode, you may want to know that the power of command now extends to tablets as we release the Battlefield 4 Tablet Commander app! Thanks to a slick interface and intuitive touch controls, the app will give you the full Commander experience on the go.
Battlefield 4 Tablet Commander is available now on iOS tablets (iPad 2 and up, aswell as iPad Mini, iOS 6.1 and up) and on Android tablets (Screen sizes 7" and up, 1ghz dual core,1024mb ram,1024×600 resolution, Android 4.0.3 or newer).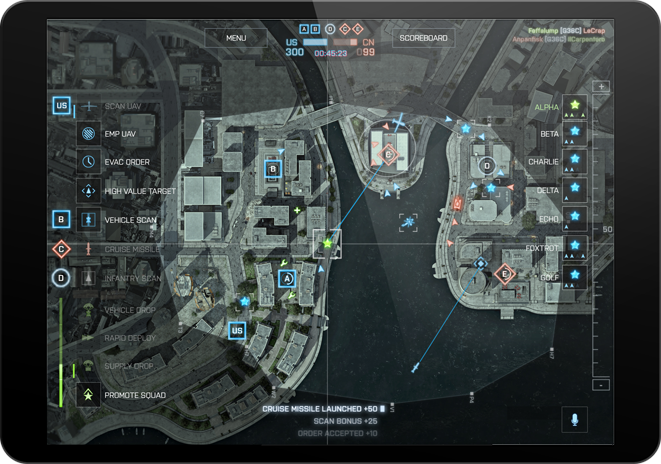 Q: I play Battlefield 4 on Xbox 360 or Playstation 3. Can I still play Commander on tablet?
A: Absolutely! The Commander app works with any platform you can run Battlefield 4 on.
Q: How do I select a specific server to join?
A: You can select specific servers to join through the Battlelog app. Simply go into Multiplayer, select a server, and join using the "Commander" button. This will automatically launch the Commander app and join the server.
Q: Does the app work over 3G?
A: Yes.
We believe you will find the Battlefield 4 Tablet Commander a powerful and entertaining tool, but don't take our word for it! Check out LevelCapGaming's review of the app.
Get the Battlefield 4 Tablet Commander for iOS
Get the Battlefield 4 Tablet Commander for Android