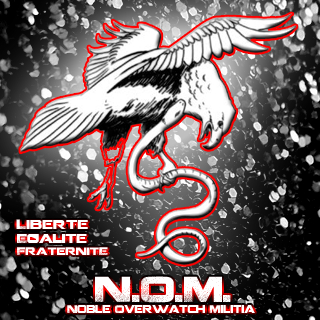 Prezentacja plutonu
Born from Rebellion, the Militia is created. Fighting for fun and sport is what we are. Our ideals are true and tested. Standing for Liberty, Equality, and Brotherhood... We defend our cause.
Team Motto: "Respect Existence or Expect Resistance."

Essentially, NOM Schedules the Clan games regularly for Friday and Saturday. We do it all for you. Now all you have to do is show up if you want to play.
If you wish to join, simply apply to the platoon.

---MILITIA HEADS UP DISPLAY---

Here in NOM we use a google spreadsheet to manage ranks, challenges, voting, and other miscellaneous things. All our members are meant to have access to it but some don't like dealing with tech stuff so it's optional, but very helpful! If you want access just ask a moderator for more info! You must have a Gmail set up to view the spreadsheet. If you need help making one we will do it for you! Just ask!

---RANKING SYSTEM INSTRUCTIONS---

Post on the platoon feed a link to a Battle Report that you wish to be reviewed. You can also post on the battlefeed exclaiming that you would like to be reviewed. A moderator will then look at your last 4 battlereports and check them out. You can also ask for a review verbally via XBL chat. Make sure you follow the instructions listed on the "Ranks List" to meet the requirements. If your Battle Report checks out, a Moderater will comment letting you know, and telling you what rank you advanced to. Examples are present in the Platoon feed right now!

--- VOTING SYSTEM ---

NOM Holds occasional votes for major decisions. If you are a member on the platoon page, You have a vote. A moderator will post a message on the platoon feed exclaiming that a Vote has begun. Or they will verbally "Campaign" the topic around via Xbox Live. For a NOM member to cast their vote, all they need to do is simply post if they are For or Against the Topic that is brought up. Or cast it verbally to a moderator to punch it in for you immediately. This voting system ensures that all Votes are done in Public and no " Vote-rigging" has taking place. When the vote is done. A moderator will post exclaiming that the Voting Session has concluded. If you would like to know or see the final decision either go to the HUD or simply ask a moderator what the outcome was.
If a Member didn't vote. Then they simply didn't vote. Make sure to Cast your vote when you can!

----MODERATORS----

KillingxSpreex
Gravity Ki11z
NOBLE L3G4CY
NOBLE MUDKIP
SLP Fatality


----CURRENT NOM Commanders----



___________

**Note** NOM Commanders are special in the sense that they go out of their way to speak with other clans and organize teams to play against them. This is a tedious task and they receive no incentive for doing so. To balance this they receive rank above all Militia soldiers only in Clan Matches to compensate. A thank you is nice every now and then too :D

ALL COMMANDERS SERVE 2 WEEK TERMS BEFORE THEY MUST TAKE A 2 DAY REST TERM TO RE-APPLY FOR COMMANDER!!!