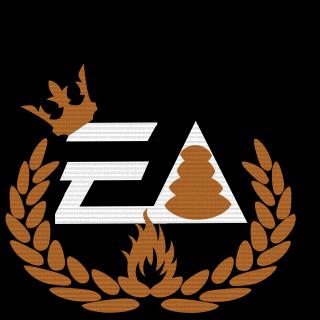 Golden Poo Award
Tag:
[GPA]
Fani:
18
Stworzono:
05.11.2012
Prezentacja plutonu
EA, the winner of the Golden Poo Award 2012.™ Inspired by a true story. This Platoon is to let people know EA doesn't make good games, they acquire talented teams, pump them for all they are worth and then destroy them.
Be a hero, spread GPA awareness to your family and friends.
The Consumerist have announced EA as the winner of the 2012 Golden Poo, awarded to the company voted by readers as "the worst company in America." EA won the final showdown against the Bank of America easily, taking 64.03% of the votes.
DISCLAIMER: We are within our rights, as the only service we might fringe is Area 11 (Rules Of Conduct) Section 3: Do not "- Organize, effectuate or participate in any activity, group, guild that is harmful, abusive, hateful, racially, ethnically, religiously or otherwise offensive, obscene, threatening, bullying, vulgar, sexually explicit, defamatory, infringing, invasive of personal privacy or publicity rights" We do not infringe on any of those listed above and are within our legal rights.
For the people who dislike the members of the platoon, we know you will want the platoon taken down because you want it gone without valid reasoning, i'm sure you will file the platoon "Offensive" (Because anyone can be "offended" by anything if they lie properly which is a violation of Area 11 (Rules Of Conduct) Section 14: Do not "Improperly use in-game support or complaint buttons or make false reports to EA staff. ", please make sure to state why you feel this way, as we are again, within our rights.

Area 11 (Rules Of Conduct) Section 2: Do Not "- Harass, threaten, embarrass, spam or do anything else to another player that is unwanted, such as repeatedly sending unwanted messages or making personal attacks or statements about race, sexual orientation, religion, heritage, etc." "Hate speech is not tolerated!"