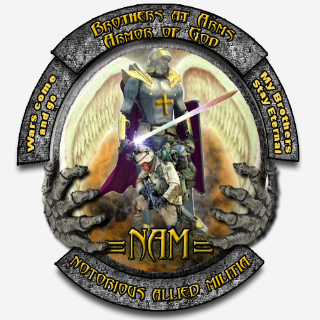 Platoon Presentation
=NAM= Is A Christian Multicultural On-Line
Gaming Community. We Are Masters At Having Fun with
Christian's & Non Christians alike While Playing The First Person
Shooter Games From NOVALOGIC, EA GAMES
& ACTIVITION Platforms.
These Games Are
"Delta Force Black Hawk Down Team Sabre",
"Joint Operations Escalations", "Battlefield 2", "Battlefield 2142","Call Of Duty 4 Modern Warfare", "Modern Warfare2", "Call of Duty World at War", "COD Black Ops" and "Medal of Honor Tier 1", Battlefield Bad Company 2
and Now Battlefield 3.
The=NAM=Squad Is A Cheat Free Squad!We Will NOT Tolerate The Use of Any Hacks,Cheats,Trainers or Glitches.
Our Squad Is About Having Fun Whack'n Tango's With Our Friends, While Providing Our Members, Friends & Guests A Clean Cheat Free Playing Environment With Good People, Meeting & Making New Friends With The Common Interest of Playing NovaLogic's, EA Games & Activition Game Platform Series!
Obey the =NAM= Code of Conduct, Treat Everyone
With RESPECT Everywhere, Manners Are Required To Play In Our Servers.
We Are A Christian Squad So Act Accordingly or You Will Be Punted or Banned!
We Are Recruiting! If You Think You've Got What It Takes To Become A Member Then Apply!
Many Have Tried, But Only A Few Can Proudly Proclaim Their =NAM=Membership!
We Are A Zero Tolerance Squad and Reserve The Right To Punt or Ban Anyone!
You Do NOT Want to Have Any Problems With Us, We Know
THE KING of KINGS & THE LORD of LORDS!