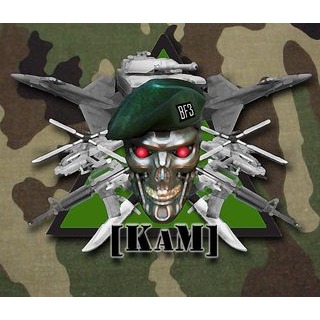 Killing awsome Machine
Tag:
[KaM]
Fans:
34
Created:
2011-10-28
Platoon Presentation
Captains of Killing Awesome Machine are-
* holeinone
* Aggrav8ed_Asalt
* AK_Unleashed84
* camsgt
* CARNESCUTUM
* GaDAD77
* pirates1740
* xJ4CK-OF-SPAD3Sx
*** We are a clan that likes to have fun! We do like to win, but playing and having a good time is what we are all about.

*** We are always on the lookout for good players who know how to be a good team player. If you think you have what it takes, contact one of the captains and we will play with you. If we like you, we will invite you to join the clan. Trials can last a week.

*** We like to see our members wearing the "KaM" clan tag.

***  We all use a mic.

*** We don't put up with TEAM KILLING or Trash Talking / Disrespect towards other members or friends from other platoons. Beyond that, we will not tell you how to play the game or order you around.

*** Music / background sounds need to be kept to a minimum. If you are on the phone please mute your mic.

*** We always play ranked hardcore modes, and the game mode is almost always Conquest.

*** You will be able to find us playing on the server " Hardcore Conquest Mix of all maps [KaM]".

CAUTION: Don't turn your back on us or you will wind up with a knife in it. THIS IS NOT A JOKE!
Platoon feed
At 1530 if any is wondering...

Woo hoo! 1411 knife kills, now my Number 1 weapon... and thats quite the feat, given the lack of hard core servers now.... I blame BF4! But i must hit Colonel 100 and get at least 500 kills for mastery dog tags for all my weapons...

every one check your bf4 battle log and click on the yellow flag to join the new KaM platoon page for bf4 i sent everyone in KaM an invite

24 more till 1400 knives... sadly the last one i just got was AK... Sorry AK, i should of listened to Jack when he was like, "No wait, i think thats....." Me- "WOO HOO TAGS MOTHER FUCKERS..... Uh oh! thats was Ak!" Jack - I tried to tell you she was running as support.... Me- She's going to be so annoyed with me...

I got a new job, it's 3rd shift but at least i can get a PS4 so....see ya when I see ya

hope every one had a great new year and looking forward to everyone getting back together soon on ps4 your friend pirates.