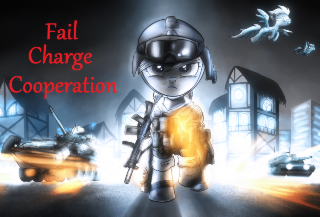 Platoon Presentation
Wir sind die Fail Charge Cooperation.
Nur absolute Kontrolle, Effizienz und Wortgewandheit führen zum Sieg.
Unser Motto lautet : "Töte,aber respektvoll".
Wir akzeptieren nur die Besten (und Freunde) in unserem Clan, also fühle dich geehrt,
wenn wir dich aussuchen und anschreiben.

We are the Fail Charge Cooperation.
Only absolute self discipline, efficiency and eloquence is the way to victory.
Our motto is: "Kill, but respectfully."
We accept only the best in our clan,
thats why we've chosen to invite you to join us.
Platoon feed
There are no more events to show