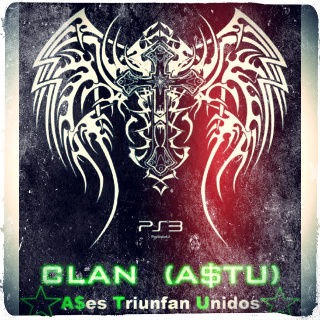 Platoon Presentation
★★★▬▬▬▬▬▬▬▬▬▬▬▬▬▬▬▬▬ AStu ▬▬▬▬▬▬▬▬▬▬▬▬▬▬▬▬▬★★★

Bienvenidos a "A$es triunfan unidos". Los jugadores mas veteranos llevamos jugando a first person shooters desde cod4, toda la saga call of duty, pasando por killzone, medal of honor y la saga battlefield bad company y ahora con el espectacular battlefield 3.

Mas que un clan competitivo somos un clan de amigos pero desde modern warfare 2 nos llamo la atencion el competitivo y siempre estamos haciendo retos contra otros clanes.

Aqui lo pasaras de lujo siempre estamos jugando y sobre todo hechandonos unas risas. En principio no nos importan las estadisticas luego si se ve que el clan crece acabaremos poniendo requisitos asi que ¡a que esperais!
"Sin organizacion no hay reconpensa"


╠╠╠ ▬▬▬▬▬▬▬▬▬▬▬▬▬▬▬▬▬ REQUISITOS ▬▬▬▬▬▬▬▬▬▬▬▬▬▬▬▬▬╣╣╣


1- Poner de CLAN TAG (AStu) (Tanto en retos como en partidas normales con miembros de AStu)

2- Se puede pertencer a otro clan pero no con intenciones competitivas es decir podeis estar en clanes porque teneis amigos pero no competir con ellos de forma seria. Para eso ya estais en AStu.

3- Micro a poder ser u oidos bien limpios.

4- No pedimos estadisticas, lo unico que queremos es compromiso y un poco de actividad.

5- Respeto en nuestro clan y respeto hacia otros clanes sea el resultado que sea. Si queremos ser respetados tenemos que respetar nosotros a los demas.


ﺸﺸﺸﺸﺸﺸﺸﺸﺸﺸﺸﺸﺸﺸﺸﺸﺸﺸﺸ RETOS ﺸﺸﺸﺸﺸﺸﺸﺸﺸﺸﺸﺸﺸﺸﺸﺸﺸﺸﺸ


Reto contra: Loko team
Dia y hora: Sabado 20:00
Modo: asalto 8vs8
Rondas: 6
Mapas: noshar, bazar y caspio
Prohibiciones: Las que exigmos nosotros estan mas abajo jaja
Equipo titular:
Rotaciones (La gente que quiera jugar a parte de los titulares podra participar tambien, cada dos rondas se harian los cambios) :


~~~▬▬▬▬▬▬▬▬ PROHIBICIONES EN NUESTROS RETOS ▬▬▬▬▬▬▬▬▬▬~~~

- Hemos decidido que solo jugaremos retos contra otros clanes donde se prohiba el m26 mass, cualquier escopeta , m320 (solo humo), el mav para molestar moviendo a la gente o para matar (solo fijar objetivos), no c4 en bombas, no robo de vehiculos en base, no campear respawn y cualquier glitch.