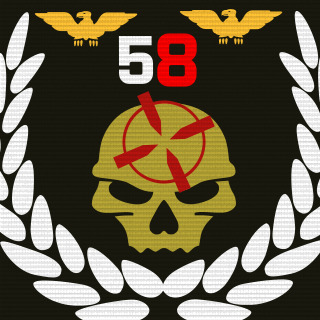 Platoon Presentation
--- IMPORTANTE ---
Per richiedere clan war su qualsiasi modalità o una qualsiasi informazione rivolgersi ai membri attualmente attivi, che potete trovare nel plotone Eyes of Eagles èlite all'indirizzo http://battlelog.battlefield.com/bf3/platoon/2832655241737394718/ , tutti i membri all'interno di quell'indirizzo sono attivi e potete richiedere una clan war a chiunque, grazie e arrivederci.

Ciao a tutti questo è il clan Eyes of Eagles, tag EoE, è un clan nato per puro divertimento e infatti all'inizio non c'erano requisiti ma con il tempo abbiamo capito che per divertirsi bisognava essere un po' più forti e per questo abbiamo fissato i seguenti requisiti minimi per entrare a far parte del clan:

-----REQUISITI MINIMI-----

K/D ratio ---> 1.3+
Punti al minuto ---> 400+
W/L ratio ----> 1+
Potranno esserci solo poche eccezioni che saranno valutate dai capi clan in base alle caratteristiche dei giocatori che vorrebbero entrare a far parte del clan.

EoE Academy - Se non rientrate nei requisiti, potrete comunque far richiesta alla nostra accademia per crescere ed entrare nel clan primario.

Link dell'accademia: http://battlelog.battlefield.com/bf3/en/platoon/2832655241456034694/

-----RISULTATI CLAN WAR-----

(premetto che le clan war antecedenti la pausa di allenamento non sono inserite)
EoE vs SDM | 7-1
EoE vs TBE | 4-0
EoE vs NBK | 0-6
EoE vs EKIF | 2-0
EoE vs OtH | 4-6
EoE vs BTO | 4-0
EoE vs DUFF | 6-0
EoE vs nGG | 1-7
EoE vs EF | 2-4
EoE vs DESQ | 6-0
EoE vs RIAM | 0-4 (vinta a tavolino)
EoE vs KBAB | 1-3
EoE vs ASH | 1-3
EoE vs CIS | 0-3

------------------NEWS DELL'ULTIMA ORA----------------

Marco è nabbo. E lo sarà sempre e comunque. E' inutile che tentate di guarirlo.