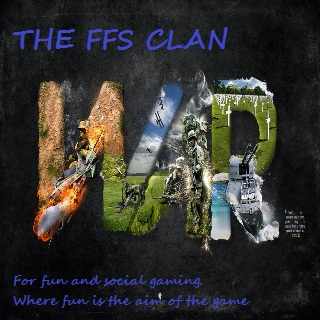 FOR FUN'S SAKES
Tag:
[FFS]
Fans:
64
Created:
2011-12-16
Platoon Presentation
FFS as a platoon represents a group of ppl who like to get together and play the game. When things go well, we
celebrate together and when things go bad, we commiserate together. We help each other out with hints and tips
we have picked up along the way.

To the FFS, playing BF3 is a hobby for leisure time and a pleasant distraction from lifes stresses such as school/
studies/work/retirement (item?). We have members from all over the country and cater for all shapes and
sizes, ages and genders.

The FFS aim is to play all types of games, sometimes doing one to death, as the players feel. If you look at the
online members, you should find one or two playing something you like. Feel free to join us, come have a chat,
we are fairly friendly :)

There is only one platoon rule, no cheap women, drugs or hacks - sorry CharlieS, no hard feelings.

FFS Teamspeak port : 152.111.192.232:9108
Download link :http://www.teamspeak.com/?page=downloads

Rules off clan
1. You need to be active in Teamspeak chat
2. You must be a SA player
3. You must add the FFS tags
4. Out of respect to fellow members, do NOT ****** clan members
5. Please speak respectfully to all clan members.

Platoon feed
Battlefield 4 Launch Commander Mode Gameplay Guide/Tutorial - http://www.youtube.com/watch?v=YuiC__ZvZjk

http://battlelog.battlefield.com/bf4/forum/threadview/2955065218161358535/

Good Day Everyone. Whoever gets this message before tonight 04/11/2013, please be on TS at 19:00. Some of our other active players went over to other clans. We would like to speak about a few changes in the Clan for those who are left and those who have not played in a while. Maybe get bit more serious in this situation. Regards Snafu

under the names of the clan members will be a button that says apply apply there and please come on to teamspeak so we can verify you please use the same name if you can as your BF3 profile name

http://www.gametracker.com/clan/BmWZA/ go to this site to apply

Due to the BF4 being released soon, I have discussed the following with the clan members on TS, that I would like all FFS members to apply to the BMW clan. I have had discussions with the Team leaders of BMW , and they will host all FFS members and they will also be hosting BF4 & BF3 servers. I would like to thank all the FFS members for our time spent together , and would like if you would follow me to the BMW clan. Regards Rhoodie

Just have a look at this damn i can't wait ............ http://goo.gl/etqUcd