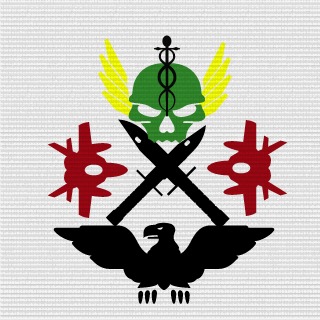 322nd EOD Battalion
Tag:
[322]
Fans:
0
Created:
2011-12-31
Platoon Presentation
The members of the 322nd Chemical EOD Battalion put their lives on the line to deal with deadly ordinance around the world by securing expected WMD sites that the Russians may have. After they served three terms in Iraq, and seven in Afghanistan, the 322nd was deployed straight to Noshahr to investigate suspected nukes, many lives were lost and Noshahr became a war zone, they need reinforcements ASAP. Apply now to be a part of the most highly decorated battalion in the world.

Positive attitude and the ability to work as part of a team are required.
Mics are requested, but not required, although if you do not have a mic, you must be able to understand how a miked squad functions. ie: being an available respawn point, dropping ammo/health, providing suppressive fire, etc.

Our activities will mostly be on the weekends. All events are based off of US central time. (Nebraska)

Feel free to stay in whatever clans you already are in. I believe that if it is a more serious and devoted clan, their activities take priority towards ours. We are very lenient, but do require clan members to go to the clan vs clan drills. We also teach members how to do the things they aren't very good at.

Clan Server: 322nd EOD Battalion.
CO: XxPhoenixXx (Robot_Panda15)
Senior XO: Razgriz115
Junior XO: Tommy03_4
Recruiter:
Designated Squad Leaders: Tommy03_4, Robot_Panda15, Razgriz115, lilmenace_13.
Sub-Squad Leaders: LuckyAustin20.

Allies: 501st Recon Force, 302nd Infantry Division

Sub-Divisions led by XxPhoenixFoxXx- Foxtrot Knights, 322nd STA, 322nd Corpsmen Division

Sub-Divisions led by Razgriz115: 322nd Armored Corps, 322nd Fighter Wing, 322nd Air Cavalry

Squads are for the simple ease of just going into a match and joining your squad leader. each squad will have a designated squad leader, a sub squad leader, and two secondary members, new members are required to message a designated squad leader (DSL) about joining a squad. members that show potential can be promoted to sub-squad leader (SSL) by their DSL/SSL. All members wanting to become a DSL must be recommended to XxPhoenixXX for examination and approval.

Squads

Alpha: (Main Mobile Command Unit and Rapid Response Tactical Squad)
1. XxPhoenixFoxXx (Squad Leader)
2. Cruel-General
3. call_me_toasties
4. aerosquid81

Bravo: (Main Armor and Vehicle Unit)
1. Razgriz115 (Squad Leader)
2. btownmagic18
3. LuckyAustin20
4. TAT_WhiteGlint21

Charlie: (Main Infantry Fighting Unit)
1. tommy03_4 (Squad Leader)
2. fishguy212121
3. Hans-Peter-Hardi
4. fmp1330

Delta: (Special Tactics And Rescue Squad)
1. lilmenace_13 (Squad Leader)
2. sapen_15
3. InsidiousCorp
4. XPac-1234X

All other members are reserve, squad members must tell a reserve man what squad he is in.

***************IMPORTANT, ALL MEMBERS PLEASE READ***************

SCHEDULE:

times will be announced three days prior to each event.

All drills and activities will occur from 1230-1700 on weekends and from 1700-1900 on weekdays, CENTRAL STANDARD TIME USA.

First Saturday of each month: Infantry drills

Every Sunday: Leaders Meeting with all DSLs.

Second Saturday of each month: Vehicle drills

Fridays: Vehicle and Infantry Drills

Third Saturday of each month: Clan vs Clan Drills with the 501st led by xmainia.

Fourth Saturday each month: Class day, teach new people, and veterans, how to do some basics in BF3.

all members are required to go to at least two of these events and the Clan Vs Clan drill. Any day that is not a drill day (ie: the week) if clan members are on, you are expected to invite/join them in game to help promote team chemistry.
Platoon feed
There are no more events to show