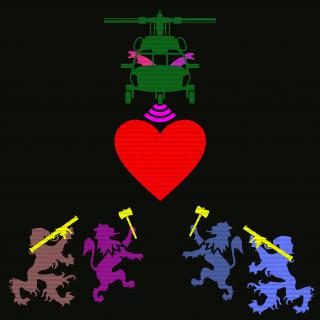 Platoon Presentation
We are on mumble when playing, if you're not on mumble then you might get kicked from the squad in favor of someone who is. http://tinyurl.com/wwmumble

Also sandweed often kicks unrecognized people from the platoon when he is drunk with power and/or paint thinner so just reapply later if you're actually active because there is a 99person limit on platoon members. Or don't w/e.

OK thanks for reading this we now return you to the scheduled neighing and baying of farmyard animals.**

To be fair I only kick people who haven't played in ages and never ever played with us. Also, paint thinner is sooo 2011 brah, it's all about the bath salts now.
-------------------------------
To disable the popup from showing every startup, open "%appdata%/origin/" open the file "Settings.xml" and change these two lines to have a value of "9999999"
<Setting key="PromoBrowserGameFinishedLastShown" type="2" value="9999999"/>
<Setting key="PromoBrowserOriginStartedLastShown" type="2" value="9999999"/>

CLASS 100 SPERGLORD EAGLE COLONEL MAJOR GENERAL FOREVER ALONE REPRESENTING:
DiracSpergor2000
spergweed
cLuLes
Riflen
Jethz

Motsew got Premium, welcome to the club!

And now Dirac got Premium too. Let's just say that he got a map pack WITHOUT JETS.

something something Hitler
Platoon feed
Show 2 more...

Jethz

THE TEETH .. THE TEEEEEEEETH

Show 2 more...

TotallyNotFred

t-titsss?????????????????S?SSSS??ssßssßsßsssßsßsssssssssssssssssssssssssssssss

Admit it Sandweed, this was you getting woken up, wasn't it? http://www.youtube.com/watch?&v=cQqx6vJ82Ec And this is a representation of our playtime on the coalitionclan servers: http://www.youtube.com/watch?v=iXp2ruZoxK8

Oh wow this layout is fucking shit

I thought the servers were fixed - I was wrong :-(. DICE say that someone is attacking their back-end infrastructure - is anonymous messing with my BF fix?

Anyone know if the servers have stopped crashing at the end of each round? It's really annoying losing progress.

When did this get all active again?

TotallyNotFred

We were galvanized by our desire to talk about anime/hitler on mumble, also crushing pubs

Ok, official website is officially UP and running now.

Show 3 more...

TotallyNotFred

also, are you seriously objecting to tits? First being a jetsperg and now this? For shame...

Jethz

Too soon man, I had a really bad experience with boobs and it's just too soon.