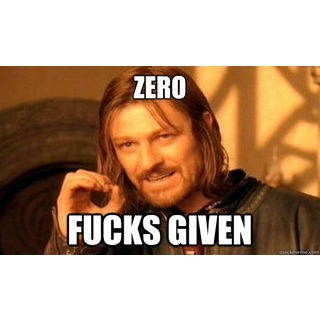 ZERO F**KS GIVEN
Tag:
[ZFG]
Fans:
16
Created:
2012-07-18
Platoon Presentation
This is for all the BELLEND COMPLAINERS AND MY ATTITUDE TOWARDS THEM !

Join this platoon if the above statment applies to you in game. When Gamers complain weapons being labeled "N()()B" or any other type of complaint when its not relevent e.g

"Shotgun noob"
"M320 noob"
"Camping noob"

There are many others but ZERO F**KS GIVEN. Its a game and couldn't care less.

Attempting to give a fuck: ███████████████████] 99% Complete... ERROR!: Unable to give a fuck.