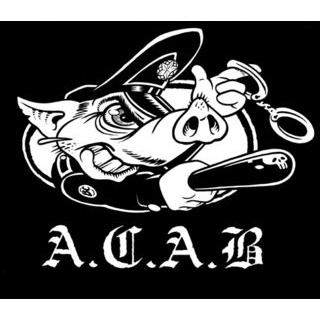 A.C.A.B.
Tag:
[ACAB]
Fans:
28
Created:
2012-10-23
Platoon Presentation
ACAB was created by friends for friends. We have been playing various games online as casual gamers and decided to create this Platoon for the fun of it. Most members are Greek and based in Greece.

This team is inactive, it only serves as a meeting place for people and friends.


Τα μελη ειναι υποχρεωμενα να ακολουθουν τις εντολες του squad leader στον οποιο ανηκουν. Αυτος φερει την αποκλειστικη ευθυνη. Ολα τα μελη ειναι ισαξια και ειναι ευπροσδεκτες προτασεις και παρατηρησεις. Κατα τη διαρκεια μαχης ομως οι παιχτες πρεπει να ακολουθουν αποκλειστικα εντολες και στρατηγικες που εχουν καθοριστει απο πριν ανευ παρεκκλισης.
Το πλατουν αυτο φτιαχτηκε απο ανθρωπους για ανθρωπους και οχι για ουρακοταγκους.
Οποιος δε λαμβανει σοβαρα υποψιν το παιχνιδι και θελει απλα να περναει την ωρα του μπορει να βρει αλλο platoon.

UPCOMING SCRIMS

-
Platoon feed
Δύο φίλοι παίζουν γκολφ. Ο ένας από τους δύο αστοχεί και αρχίζει να βρίζει.. - (.....) να πάρει, αστόχησα! - Μη βρίζεις γιατί ο Θεός σε βλέπει, σε ακούει και θα σε τιμωρήσει. Μετά από λίγο ξανααστοχεί και βρίζει πάλι.. - (.....) να πάρει, αστόχησα! - Μη φέρεσαι έτσι γιατί ο Θεός θα σου στείλει κακό σημάδι.. Ο νευρικός τύπος αστοχεί και πάλι και συνεχίζει.. - (...) να πάρει αστόχησα! Ξαφνικά πέφτει ένας κεραυνός αλλά χτυπάει τον άλλο παίχτη και ακούγεται μια φωνή από τα σύννεφα: - Να πάρει, αστόχησα..