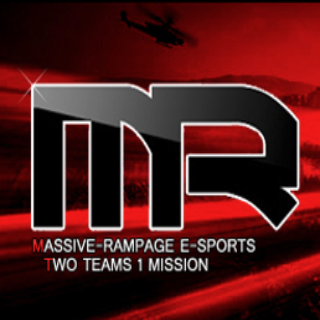 Platoon Presentation
Massive Rampage was founded in September 2005. We started out as a Battlefield fun clan but after a short period of time we decided to start competing in the Benelux competition. When we reached the top 3 of this competition we decided it was time to start competing in the European competition of Clanbase as well. We slowly fought our way into the top 3 of Europe and held on to this position for quite a long time. When the hype around Battlefield 2 fade away we withdraw from the competitions for six months. Some of the original team started playing other games like the all popular World of Warcraft but most of the original Battlefield 2 team continued practising. The fact that some members starting played other games as well under the Massive Rampage name automatically made us a gaming community instead of just another Battlefield clan.

The present and future
During the six month pause we assembled a new team and recently made our comeback on the European competition of Clanbase. With this comeback we showed that Massive Rampage is here to stay unlike many other gaming clans out there.

With this new website we kept the gaming community concept in mind and build a "community-ready' site for the future. Our goal is to have several teams who compete with multiple games on the international ladders. This means that there is space within Massive Rampage for new members and more competitive action!

Our number one place in the European Battlefield 2 ladder and a place in the finals of the Open Cup 2007 represents the confident attitude and spirit of the Massive Rampage members.

Massive Rampage is a gaming community to keep track of if you want to be part of the action.