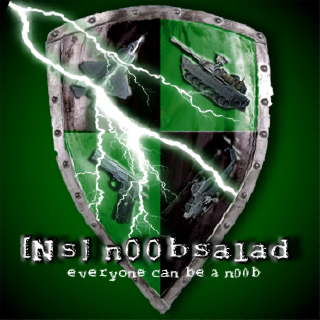 Platoon Presentation
n00bsalad welcomes all who wish to join.
If you wish to stay, get on TeamSpeak and play with us.
You should also sign up on our website.
Our platoon often fills to capacity. These are the factors
that help us decide who stays and who goes.

† TeamSpeak 3†

We use TeamSpeak 3 ( V.O.I.P.) If you don have TS3 you can download it from our official website link above. Then follow these steps:
• Enter your game name.
• The server name is N00bSalad Gaming Community
• The the address and port number is 67.215.237.12:1337
• No password needed.
• Feel free to friend the leaders and make your presence felt.
• We generally play 5:00 P.M. to midnight Pacific Coast Time.


† A Few Reminders †

• No obligations are expected other than fair play.
• Unsportsmanlike conduct will not be tolerated.
• If you're good, help others who aren't. If you're not, learn.

Platoon feed
Im back guys :P It's been long since i've played this game hit me up if you're willing to play a round with me!

Keep randomly checking in... two week break in school next week--Gonna be on as much as possible... Quick update I guess: 11th grade is a fucking pissoff... taking 2 AP's, and currently gunning for either Harvard or Yale or Cornell. This means I have no time, and no life... I can't play bf3 as a result, but I wish I'd spend more time on. Once again, it's AWESOME gaming with you guys, and I hope that one day I'll actually have the time to hang out more.

yeah you should prob kick me--Schoolwork caught up and I can't get on much... Especially with finals coming up... I wouldn't mind if you kicked me to make more room. cya guys

sniffydog123

Hey guys--I've been with most of you all on TS. excited to continue the battle alongside the fabled noobsalad!