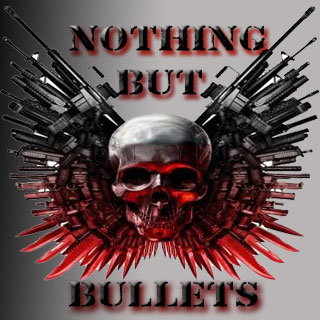 Nothing But Bullets
Tag:
[NBBS]
Fans:
16
Created:
2011-10-25
Platoon Presentation
NOTHING BUT BULLETS
"When the bullets start to fly, people start to die.."


-Notify teammates of enemy position vocally (Spotters)
-Willing to assist with ammo, meds, spotting support, and Anti-vehicle support
-Vehicle cooperation, I love it when our team can keep one vehicle in good condition through most of the match.
-Even with these requirements, having fun is one of the biggest points, no one likes a hard ass, ruins the fun.

THE ONLY REQUIREMENTS ARE:

-NO FUCKING SQUEAKERS, which is why I have made this platoon 16+

and

-You must be on Xbox 360 often. I mean, you can join if you have both Xbox and PC....or Xbox and PS3...or all of them..Rich ass.

NOTHING BUT BULLETS..
Simple to explain, Shoot to fucking kill, if you dont kill...you keep fucking shooting. you dont kill...
you keep fucking shooting.
Platoon feed
There are no more events to show