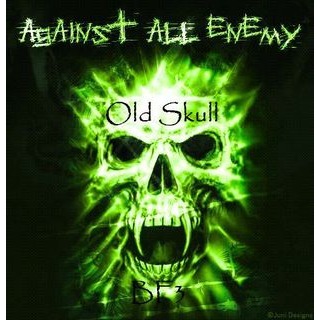 Platoon Presentation
Welcome to Old Skull!
We are the elite group of warriors that will kick ass! Each leader has multiple abilities that can assist each other as a dominant platoon when in the Battlefield!
**WE DO NOT TAKE ADVANTAGE OF KNOWN GLITCHES**

~*~*~*~*~  You MUST be 21+ years of age or prove that you are mature enough to NOT bitch when things do not go your way! ~*~*~*~*~

Jstratma1: "J" is skilled like a ninja in all areas but is the ultimate tank WHORE, in which he seeks objectives and talks shit. He may die in a tank but can assure you that he will take 20 enemies out before that happens to help push his squad to the next objective. In most cases it takes 3 guided missiles to take him out. With countless helicopter kills with the blind tank shell, he will get you! If all else fails he has his badass teammate Lush to support him.
************ PSN: jstratma1 ****************

Erichday: "Texan" 100 colonel. He might not cum but does come equipped with strategy and game plan necessary to win when once his testosterone kicks in. Texan was our first to gain Shit Bucket status, his accuracy is drop dead on! he is awesome team player an will be by your side on the field
************ PSN: Texans2007 ****************

SoUrDoUgH420: "Sour" is our ultimate killing machine! If he is not in the tank, he is owning you with his bullets with a personal touch of the teabag once dead. If you are in the air, he will find away to get rid of you or get you out of the sky. Then he will hunt you down to slice the neck as he take your tags. he is a fierce competitor
************ PSN: SoUrDoUgH420 ****************

Lush79: "Lush" is the ultimate team player. If he sees a weakness on the squad, he will jump in and take charge to help his fellow clan mates. If you need ammo, health or need your vehicle fixed? He will jump in and provide you with whatever you need to continue to the next objective. He is the A in A-Team! .
************ PSN: Lush79 ****************

TeknoBlast: "Tekno" is our terror in the sky and with C4 on the ground. When in the air his support is valued and flying abilities are above any I have ever seen. If you're lucky to get him down from the sky, he will find you and take his own life with C4. He is the al-Qaeda of Old Skull and will humiliate you with videos of ignorant infidel of his abilities! .
************ PSN: TeknoBlast ****************

DMaxHemi: "DMax" is the oldest fart in our platoon and his reaction time will tell it all. He might be slow on the draw... but he will be the old dude with a walker, unsuspectingly walking by a tank planting C4 for a nemesis ribbon. DMax's motto is simple and does not require verbal notification. "Spray & Pray and I will C4 ya later"
************ PSN: DMaxHemi *****************

Falixion808: "Flax" is always fired up once you hear the bubbles and is one of the best team players in Old Skull. You can put anything in his hand and he will smoke you or himself.
************ PSN: falixion808 *****************

jbcdtp: "JB" Is our centralized US of A badass mutha-trucka when it comes to balanced kits and vehicles. Watch out! He will shove his overheated barrel right up you're a-hole as tekno videos it.
************PSN: Tint_Master *****************

Jadenemma: "Jaden" From New York and has attitude when he pulls out his TOP 1% rifle, the M4A1 and rips apart the opponents skull with Rambo style tactics with ultimate accuracy. Then he will pull out the enemy's heart while showing it to the enemy while he is on kill cam at the same time Sour is tea-bagging the lifeless chump annnnd tekno will have it on video.
************PSN: jadenemma ****************

Like to add that we have our own server called Old Skull. It's a public server and anyone is welcome to use it.

We now have our own forums available for everyone. The link is above and click on "Official Website". Come check us out.

**** To join this squad, it is a must to be a team player and have thick skin if you suck. We will dog you! ****
Platoon feed
Wow, the last post here was three weeks ago. What happened here? I guess we've all been a little busy with our lives. So everyone knows that both the XB1 and PS4 was released these last two weeks. Let me tell you, the BF4 for the XB1/PS4 looks amazing compared to what the BX360/PS3 has offer. Right off the bat, you can tell a huge difference. I've been hooked since day one of the Xbox One release. I guess I'll try to hook up with you guys later this week. If not, everyone have a great Thanksgiving weekend.

Obliteration was a blast. You guys have to check this mode out.

Don't forget to place Skul (with a cap "S"). :)

We need to get sour to set up our platoon shit again once I get it up.

erichday

There are no platoons right now on BF4... and as far as you saying "get it up." That should remain between you and the wife

I got two guys that are interested in joining, hrdknock513, and zone317

Who's ready for next week?!?!?!?

One week away from BF4, let's get ready to rumble guys!!!