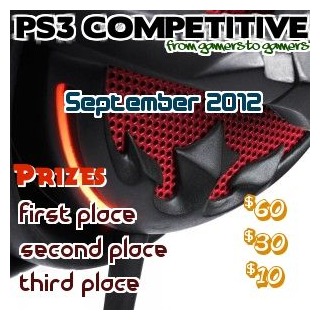 Platoon Presentation
» Tournament status: on HOLD due to FraggedNation playoffs Tournament. Expect more information at the end of September.

▬▬▬▬▬▬▬▬▬▬▬ஜ۩۞۩ஜ▬▬▬▬▬▬▬▬▬▬▬▬▬

Introduction

Welcome on Official PS3 COMPETITIVE Tournament platoon page!

This event is meant to take place in September 2012, the date will be announced in mid August.

We're looking to get 8 the best PS3 teams competing for cash prizes.

This profile is going to be the only official 'website' and will provide all of the information needed.

For any questions/suggestions/feedback please contact me via e-mail: miquinei@wp.pl


Teams interested in this event:

[QxD] - Quantic | Devastation ✔

[pp] - Pernix Pugnax ✔

[tCo] - tHe CraZy oNeS ✔

[D3vz] - Devils Reyects ✔

[tPs] - The Psychos ✔

[vVv] - Veni Vidi Vici ✔

[EVO] - EVOLUTION ✔

[LGN] - Legion ✔


Waiting list:

[USAT] - USAT

Backed out:

[LoD] - Legend of Dragoons

[FfC] - Firefight Company

▬▬▬▬▬▬▬▬▬▬▬ஜ۩۞۩ஜ▬▬▬▬▬▬▬▬▬▬▬▬▬

Prizes

100% of money from buy ins will be dedicated to fund prizes in this tournament. We're also getting sponsored by: the host

Sponsorship funds: $20

Currently we're looking at $60 as the first prize, $30 as the second prize and $10 third prize.


Buy in: $10 per team

▬▬▬▬▬▬▬▬▬▬▬ஜ۩۞۩ஜ▬▬▬▬▬▬▬▬▬▬▬▬▬

Event rules

1.0 All rules presented below are the only rules that will apply to this tournament.

1.1 Members will not attempt to manipulate the game or tournament system in an attempt to give any player or team an unearned/unfair advantage.

1.2 All teams involved in this event must have at least 2 representatives in the official platoon.

2.0 Penalty system
The following is the penalty system to be used in this tournament. Evidence will be present before any of the following infractions are given:

General issues:
1st occurrence: Team/Player Warning
2nd occurrence: Player Suspension (for 1 match only)
3rd occurrence: Team/Player ban

Match Admin Abuse - include breaking competition rules:
1st occurrence: Forfeit of the map
2nd occurrence: Forfeit of the match
3rd occurrence: Ban from tournament

3.0 CHEATING/HACKING:

Will not be tolerated. Any team caught cheating will be banned from the tournament immediately.

Zero tolerance with regard to past known cheaters/hackers. If there is evidence presented, or the community is threatened by the presence of a cheater, they will be permanently banned from future tournaments - no exceptions.

3.1 It is possible to bring forward information on an alleged cheater to our attention. Proof must be provided along with all the information.

4.0 MAP FLAWS

ANY exploitation of a map flaw without reporting it to an Admin grounds for disqualification and removal from tournament competition. This include gaining access to areas that players were not intended to (e.g. 3'rd floor building on Operation Metro, Sein Crossing etc.)

4.1 Just for clarification, areas that are not normally available for infantry but are accessible with flying vehicles are not considered as map flaw (e.g. roof tops on maps like Kharg Island, Operation Firestorm etc.)

5.0 TIMES AND MATCHES

5.1 All match requests/change requests must be transparent and made on Official PS3 COMPETITIVE platoon wall. Otherwise these request will not be recognized.

In addition all of tournament participants must be able to play a game on following days and times - Saturday 1 - 6 pm EAST, Sunday 1 - 6 pm EAST.

Teams may agree to play at different time.

Teams will have to play each weekend and if a game cannot be arranged, they may ask the host for another week. This is it however and in case teams cannot agree on date and time for the match, we will provide them with randomly generated date and time within the time range above on that second weekend.

5.2 Change Requests must be accepted by opposing team.

5.2 Anytime a match is rescheduled, a change request must be submitted to the leader of facing team at least 24 hours prior to the originally scheduled date and time. Otherwise the change request will be invalid.

5.3 All tournament matches are played in a "Best Of" format. The winner is the team who takes the match in "Best Of 3 - Win 2 maps". Only the finals will be played in Best of 5 format.

5.4 All maps will be fixed and selected in the first week of the tournament before any matches take place. In best of 3 format 2 maps will be picked by the teams and the 3'rd map will be picked randomly by using random.org website and will be live streamed (the videos will be available to everyone on the web for reference). We're going to use the same system when randomizing groups in Round 1 and picking opponents in Round 2.

5.5 In the event that opposing team doesn't show up at scheduled time and server, the team must give the other team 15 minutes to show up. If the missing team still doesn't show, the other team will take a win.

5.6 In the event that player/a group of players disconnects from the game at the beginning of the round before the first kill is made, the round must be restarted if requested by any of the teams.

6.0 Server Settings

It is important as both the challenger and challengee to ensure that the server is running the proper configuration or settings before starting the match, and certainly before reporting the match.

In the event you notice settings or server configuration needs modification, it is your responsibility to notify an Admin to correct the situation BEFORE MATCH TIME or BEFORE THE MATCH BEGINS. All servers are run by different admins, so there is a possibility there may need to be a change.

6.1 Hosting

First Map - Team A server
Second Map - Team B server
Third Map - First round Team A server, second round team B server

Teams may agree to do all maps on one server.

In addition, matches in this tournament cannot be played on Australian, Asian, West and South US servers except, If both teams are from America, they may agree to play on West/South US server.

6.2 Tournament map poll: Caspian Border, Operation Metro, Kharg Island, Operation Firestorm, Noshahr Canals, Sein Crossing, Grand Bazaar, Tehran Highway.

6.3 Tournament specific settings

Game mode: Default normal
Server type: Private
Team size: 12v12

No bans for any weapons/tactics.

6.4 It is recommended that teams use Battlelog match creating system and set up all games. This would help to organize things a bit better.

7.0 TEAMS

7.1 You may rotate any member of your roster for play at any time of any round.

7.2 You may use any player for your match roster. However, he have to the clan tag in the match.

8.0 Playing matches

8.1 In case a player disconnects, it's teams responsibility to replace him. There will be no replaying of any round because player/group of players disconnected from the game. The same applied in case of lag or hardware crash.

8.2 Match can only be started if both teams clearly stated that they're ready. The server then must be restarted.

8.3 If on a privately owned server a player not intended to be in the game joins, the admin must remove him immediately once determining they should not be in the game. It is recommended that both team leaders are in a PSN text chat so they can quickly notify an admin to remove the player.

It would be also recommended to give Admin rights to a leader of opposing team for quicker reaction.

8.4 If server Admin won't remove unwanted player from the server within 2 minutes, round will be forfeited in favour of the away team. This rule however, does not apply if Admin rights were given to leader of the away team.

8.5 In case any player was kicked/banned from the server during the match and was not asked for removal by the leader of opposing team. The round will be forfeited in favour of the away team.

9.0 Scoring

9.1 A match consist of 3 maps. One map consists of each team playing 1 round as the Americans and 1 round as the Russians. First team to win two maps wins the match.

A point is received when a team wins as either the Americans or Russians. At the end of a map, points are added up and the team with more points wins that map. Points from each map do not carry over to next maps. Each map starts out 0-0.

Example: Team 1 wins as the Americans and Russians and Team 2 does not win at all, Team 1 wins that map 2-0.

9.2 If there is a tie in points on a map the map will be replayed after playing all maps if neither team has won two maps then the map must be replayed.

10.0 Submitting scores/reporting match

10.1 Match should be reported within 24 h after the game was played. It also needs to be done on Official PS3 COMPETITIVE platoon wall.

10.2 When submitting a game, you should provide us following with information - ticket count of both teams of each round played. Either winner of the match and loser can report the match.

It would be ideal if participants could set up their game via Battlelog match making system (set up first two maps in one match and then set up the third map separately).

10.3 In case submitted scores are in doubt by the other team, proof of ticket count of the round/s must be provided!

10.4 In case opposing team doesn't show up on agreed server at the time of match. Forfeit request must be submitted as soon as possible with proof of show on the Official platoon page.

▬▬▬▬▬▬▬▬▬▬▬ஜ۩۞۩ஜ▬▬▬▬▬▬▬▬▬▬▬▬▬

Tournament structure

1.0 Round 1

We're going to have two groups, group A and group B. Each group will include 4 teams and all teams will have to play each other in best of 3 format. Two teams with the most points will get out of the group and proceed to Round 2.

Points system within the groups:

Win 2 - 0 (W) - 3 points
Win 2 - 1 (W) - 2 points
Loss (L) - 0

2.0 Round 2

In round number two we're going to have single elimination brackets and players will play their randomly generated opponents in best of 3 format.

Only two teams will proceed to the Championship Finals.

3.0 Loser brackets

The two teams eliminated from Round 2 may play each other in best of 3 format for 3'rd place in the tournament.

4.0 Championship Finals

The Finals will be played in best of 5 series and let the better team win!

▬▬▬▬▬▬▬▬▬▬▬ஜ۩۞۩ஜ▬▬▬▬▬▬▬▬▬▬▬▬▬

Buy in method

1.0 All participants must buy in within specific dates that will be announced in mid August.

2.0 Team cannot get their money back after they buy in, unless tournament gets canceled.

3.0 All buy ins must be made in form of money transfer on tournaments PayPal account.

4.0 Money transferred by the team must be the same as the buy in amount or more, not less. In case a team transfer incorrect amount of money they will need to add more funds to meet the buy in amount.

4.1 In case the team has transferred too many funds, they will not be returned unless it's more or equal to $10.

5.0 All the prizes will be sent to winning teams right after the tournament finishes and the money should be available within 5 working days.


▬▬▬▬▬▬▬▬▬▬▬ஜ۩PayPal Guide۩ஜ▬▬▬▬▬▬▬▬▬▬▬▬▬

PayPal is probably the safest and the most convenient way of transferring cash. I'll try to give you a little guide on how to make it work but to be honest it's so easy you can't go wrong.


1. Go on the official PayPal website - https://www.paypal.com/uk/cgi-bin/webscr?cmd=_home-general&nav=0 and register. Standrad stuff nothing too complicated.
*You might need to verify your account so just follow the instruction provided by PayPal*


2. Then you got to click on "Add funds" and transfer the $10 onto your account - if you do online banking, you'll need to do it via your online bank account and you'll be able to instantly transfer the money. If you don't then you'll need to go for option "PayPal moves money from your bank account" what may takes up to 5 days.


3. After you get the $10 on your PayPal account, you'll need to transfer your money onto tournaments account which is also my personal account - miquinei@wp.pl. Please keep in mind that this is the official and ONLY PayPal account that you need to transfer the money.
Keep in mind that you can withdraw money from PayPal at any time.
And just make surethe $10 you send us are USD (United States Dollars - you can exchange your domestic currency for USD on the site).
In addition, PayPal is available everywhere and you can send money from any part of the world. All you need is Bank account.
Hope this helped you and if you got any questions/problems please get in touch with me on miquinei@wp.pl.
Platoon feed
There are no more events to show