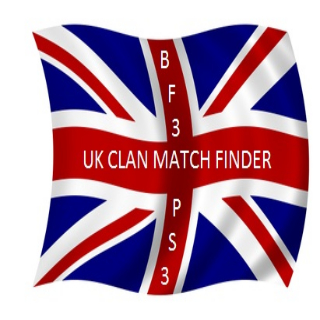 UK Clan Match Finder
Tag:
[UKCM]
Fans:
92
Created:
2012-07-07
Platoon Presentation
TOURNAMENT

LEADERS PLEASE POST YOUR PLATOON NAME ON THE WALL BELOW ALONG WITH YOUR NAME/USER.



The purpose of this platoon is to bring together the relevant leaders of as many UK-based clans as possible, making it easier to set up clan matches against each other. Please pass on the details of this platoon to any UK-based clan you have played against/plan on playing against, so that they too can benefit from this platoon.

Any clan from the UK is welcome, regardless of size, skill, or preferred game mode.

Clan List:
KingY-94_ + xandyw84x + LJz-OnLiNe - UK Gamers
OneObjective + MaximumImpact86 - UKSF
ajcowieuk - The Black Watch
Lenski_n_Vicious - British Bulldogs
rcmccfc + cogangeezer +
dino_doctor - Wales
The-bookie852 - Revolutionary Gaming
FK-Ville - Fulltime Killers
JayGarwood - The Sheen Machine
axelkronik88 - Battalion Of Bulldogs
OLIVER_MC_97 - Team United Kingdom PS3
Itz_Kojo - Lethal Viperz
No1BEZZA - The Hard Core
Peacemakeire - Jagged Alliance
Currie90 + Tokra85 + obiadekanobi + ArcticWolfy73 - Guns For Hire
POMPEY_SKY_2010 + wallisd - Private First Class
xAGx-R3MiiXz - BattleFeild Assassians
TORRIDERtriger - Global Killers Elite
MobyDiculous82 - Super Soldiers
DognDon - 1st Combat Elite
englishgunner - Cardiff Bus Crew
WESTIE_UK1989 + sefc25 - Xtra Dimension Gaming
COBRA-SgtStryker + sullyboy74 + phil180knight - COBRA-66thCommandoUnit
IMr_SmithI - CLAN KILLAZ KOLLECTIVE
JAIMEHAY1 - Total Destruction UK
TheHangingJudge - PistonHeads
Barney-19-88 - The A Team
macxeno - Playstation Scotland
Courage_1984 - European Death Squad
McDude007 - KAE-kick ass n-ireland elite / NIE-n-ireland elite
shaun-wr009 - Qaa
xFateless - SoD-Stars of Destiny
astar2510 - EURO ASSASSIN HIT UNIT
CLxxxAN_Teddy - CLxxxAN
StormRage50 - Reapers of Fools
ONErealOLDgit - UK Special Forces
xXSmilerXx - iX2
tdog121984 - BVSF
NeG_ChrisCarr - New Element Gaming
Ironic - Carlspurs

Please note, you must be a clan leader to be accepted.

Leaders, when accepted will be listed above with their clan.

Platoon feed
There are no more events to show