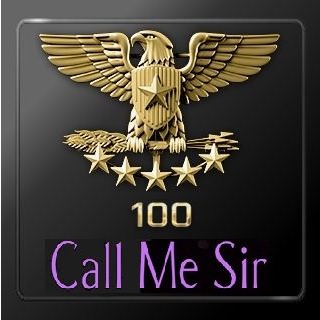 SlR
Tag:
[SIR]
Fans:
45
Created:
2012-10-08
Platoon Presentation
Sir (n.)1- a man of social authority and dignity; a lord; a master; a gentlemen:-- that will teabag you mercilessly if provoked ;)

CAN'T KEEP A SIR DOWN
Created by r0sePHich and SnS_Ruthers solely for the members of Stix n Stoners MGC, CosmicKillj0ys, Harmonious Heroes, and Death To All who reach Colonel 100 and truly deserve the status of SIR.
Who have the HONOR and the COURAGE to stand with your comrades in every battle, win or lose!

*****NEW MEMBERS*****
PLEASE send battlelog and PSN friend requests to all members so we can be sure were all able to play together.
-SIR xD
THANK YOU!
Also.. New members...
We love our comrades.
So if you can't get along
Your ass is GONE! <3 -SIR

100 service star club
SIR Plato500-QBZ-95B
SIR zbuis22- AN-94
SIR R0sephich-AN-94
SIR Petas- AUG-A3
SIR Marvellife-Assault class, AN-94, AEK-971, AUG-A3
SIR geidentifieerd-PDW-R
SIR Nordinggg-Tank Destroyer
SIR Teddler-MBT
SIR Simstep-Attack heli, Jet
SIR LilliumBosniacum- Jet
SIR rnsk8z-Recon class, M5K, PDW-R, UMP-45,
***THE SHIT LIST***
BLACK WATER MERCENARIES Server admin/owner d300791<-- GET 'EM BOYS!!!
gunking121<-- Likes to talk shit, but kicks our mates when they give it back. (._. ) yeaaa..
BOHICA SERVER<--another bad, sad little madmin.
Platoon feed
Gentlemen.. I must share with you my experiences in my 1st round of obliteration. So I join theDude on Op. Locker map and the enemy has destroyed 1 of our 3 objectives, we've destroyed none. After a few minutes of pure meat grinder action, as obliteration sort of is by nature, i manage to plant the bomb on A with my buddies help, then proceed to go on a pretty decent killstreak. Once i finally die, but not without taking 99 of his health, he died almost immediately. Then, the top right of my tv says "Call me Sir"!! LMFAO! I seriously almost peed myself. Turns out though, the 'call me sir' trophy is for reaching rank 25 (._. ) apologies for the story, i just found it incredibly awesome :D

http://www.youtube.com/watch?v=7mad_A57KrI&feature=youtu.be

my dear battlefriends, may i ask you a question? I read that if i buy BF4 on PS3, when i will buy the PS4 i will be able to play BF4 on it with the game i previously brought for my PS3. Is that information true?

Show 6 more...

88Samurai88

can't wait to rejoin and play with SnS and Heroes...if they will accept me again

http://www.youtube.com/watch?v=CqWmKYBdrAc&feature=c4-overview&list=UUanJfBMzY7WnHKticxTruWw

http://www.youtube.com/watch?v=BoDcNMAp_DY

Please don't suppress me from the platoon! I would like to further follow your stories...

Hi Hi Sirs! Long time not see and speak on the battlefield... My faults! The past months would be a long story to explain in few words. However I am really sad, as I do believe that I would not purchase neither BF4 or the PS4. It would have been a GREAT pleasure and certainly some further exiting time with you all on the Battlefield (I do not want to finger pointing some of you particularly, but the ones with who I used to have more fun would now). Nevertheless never say never and I hope we would have some chance to fight together again soon! I will never forgot all these nights and fights together! SEE YOU SOON SIRS !

http://www.youtube.com/watch?v=lgHSNmXeyX0&feature=youtu.be

really fun with all of you tonigh, gg

ll-Kattivo-ll

GG had a lot of fun, and nice meeting you all again! ;)

SnS_MR_KOOPZ

Any time guys! If im online invite me, dont need cod blueberrys lol