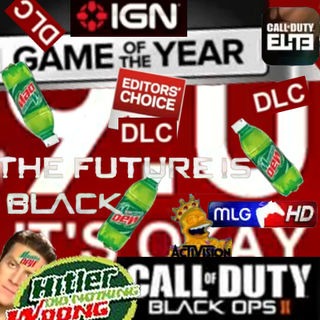 THE FUTURE IS BLACK
Tag:
[IGN]
Fans:
19
Created:
2012-11-02
Platoon Presentation
http://www.youtube.com/watch?v=wrQkEg-Dpvk

"War has never been this realistic"
- Tom Clancy

"9.0/10 It's Okay"
- IGN

"An ancient evil awakens"
- M. Night Shyamalan

"We want the Mountain Dew audience"
- Activision

Introducing Call of Mountain Dew™ty: Black Gays from Outer Space 2™.

Awarded Game of the Year All Years Every Year by In-Game Name and blessed by the whole Vatican.

Sponsored by Mountain Dew, Doritos, Skrillex, Microsoft, Activision, McDonalds, Nazi Germany, My Little Pony, Major League Gaming, Monster Energy, KFC, IGN, Gamestop, Brazzers, 9gag, Kotaku.