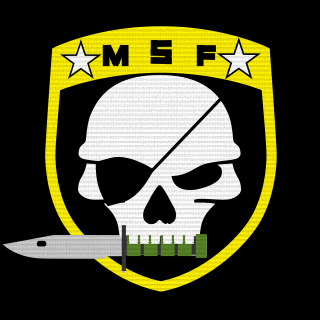 MSF
Tag:
[MSF]
Fans:
4
Created:
2014-09-28
Platoon Presentation
MSF is a Private Military Company (PMC) and a Mercenary Company. In MSF, we fight along side our brothers in arms. We are no ordinary company. A mic and Skype is usually preferred, otherwise we'll make exceptions. Our number one priority is to fight along side our brothers when they need help. If another platoon needs our help, we will fight to temporarily support that team under the MSF name. We don't fight for peace. We don't fight for a greater good. We don't fight for a just cause. We only fight to fight and to keep on fighting. We fight for our own personal gain and for the gain of our company. We don't fight for any specific countries unless hired, so leave your flags behind and dawn a new flag. The flag of MSF.

What it takes to join MSF: guts, comradery, courage, a new found patriotism for our Motherbase.
There is no specific K/D or SPM. all that want to join may do so and apply.

This company is supervised by one supreme commander: Wet_Work_MGS (prcgar)

Use any talent that you're good at, follow orders, and prepare to win. Motherbase needs you.
Platoon feed
Attention everyone! We are going to do a recruiting process this week. So I want everyone of you to recruit as many people as possible. Set up posts in the platoon recruiting station on forums. I also have some great news. I will make my return to Battlefield 3 this weekend and I want everyone of you to give me an add on PSN. The username is prcgar. Come message me and game with me some time. That is all for today, but stay tuned for further instruction and more information. Big Boss out.

MT7_OHH_MT

add me please will see how u do :) might use the tag but i aint sure since i like this one to just made it up hehe

Alright! I have already assigned leadership roles for this platoon. As you all know, I am the Founder of this rag tag group. But, as of today, the second in command in this platoon will be DionBarelds, due to the fact he outranks everyone. More leadership roles will be assigned later, stay tuned.

Once we get more members, I'll start assigning leaderships