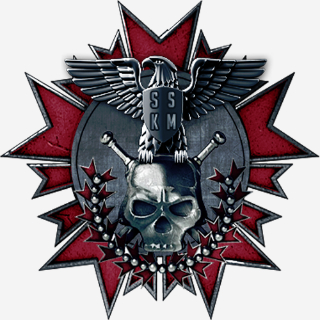 Презентация взвода
Sask Militia™ is a BF3 GAMING COMMUNITY with members from all over the globe.

--------------------------------------------------------{ Welcome to the 306th Battalion™ }--------------------------------------------------

The platoon for the most dedciated and experienced soldiers. Who have proven themselves to the platoon and to each other.

In BF3, SSKM is divided into:

1) Sask Militia™ - Our main gaming community
2) Sask Militia™ PC/PS3
3) 306th Battalion™ - The platoon for the most dedicated and active players, who take the game to the next level.

You MUST put on the [SSKM] tag via your Battlelog profile and already in our Sask Militia community to be invited into the platoon and it is mandatory to wear the tag to remain in the platoon.

----------------------------------------------------------------------------------------------------------------------------------------------------------

Since our platoons are invite only, it is first required for all new recruits to join our website and forum.

http://www.saskmilitia.com/forum/forumdisplay.php?16-Register

http://www.saskmilitia.com/forum/showthread.php?1867-WELCOME-all-New-Recruits!

From the forum you will be provided with further instructions!

Hope to see u on the website!


------------------------------------------------------------------{ SSKM Motto }-------------------------------------------------------------------
"It's not what your tag is that changes your gameplay, it is the SSKM on your dogtag that changes it "
----------------------------------------------------------------------------------------------------------------------------------------------------------

----------------------------------------------------------------------------------------------------------------------------------------------------------

A General reminder to all members to download http://www.raidcall.com and join our SSKM group: 5992313
Лента взвода
ezstats added to our website! See how u rank up against other SSKM members!!!

website will be up next week!

Website starting to come back online. Stay tuned!

Merry Christmas everyone have a Epic 2014

If u dont have your service star yet, go get your redemption code here now (must have 3 months experience in SSKM http://www.saskmilitia.com/2013/11/07/sskm-service-star-redemption-code-3-month-of-service-required-warning-small-fee-for-code/

Just changed my taggles to have Ssk3 on them

Will there be any changes to the 306th with BF4?

McFeary

Stick with these platoons until BF4 platoons come out, by then there maybe a slew of new members and prospects waiting to join. *crossesfingers* and maybe even old members.

Heard bf4 wont have platoons till next year...lol guess who has one of the best ALREADY! When bf3 goes dark and bf4 is live..have no where to go make sure u check out and check into our website www.saskmilitia.com!