Your collective efforts in the Battlefield 4 community missions have been truly awesome. That's why we have full confidence in you when presenting a new challenge that will see you dominate the skies.
We want all of you to collectively destroy 2,000,000 vehicles with a jet. This community mission will take place across all platforms. This challenge starts Aug 5, 9AM PDT, and ends at Aug 11, 2AM PDT. If you reach the magic 2 million, we'll award everyone with a Gold Battlepack.
So strap on that pilot gear, jump into BF4 and your mighty jets, and reign down from above. We're counting on you.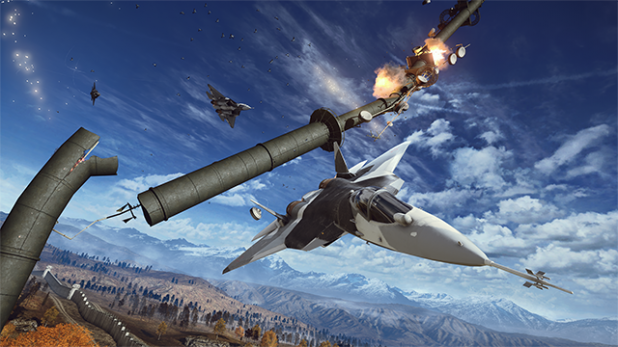 Track the community's progress here on Battlelog by going to Multiplayer, then to Missions.
Battlefest is a month filled with weekly rewards, contests and in-game content, and is designed to celebrate you, the Battlefield community. You can learn more about the Battlefield 4 Battlefest here.
THIS OFFER IS BEING ISSUED TO YOU FOR PROMOTIONAL PURPOSES ONLY AND DOES NOT CONSTITUTE A CREDIT, CHARGE, DEBIT OR GIFT CARD. BATTLEFEST IS FROM JULY 12, 2014, THROUGH AUGUST 13, 2014 ("PROMOTION PERIOD"). REQUIRES BATTLEFIELD 4 ("PRODUCT") ON APPLICABLE PLATFORM AND INTERNET CONNECTION TO ACCESS IN-GAME CONTENT. PC VERSION OF PRODUCT ALSO REQUIRES ORIGIN ACCOUNT, ACCEPTANCE OF THE ORIGIN END USER AGREEMENT AND INSTALLATION OF THE ORIGIN CLIENT SOFTWARE (WWW.ORIGIN.COM/ABOUT). YOU MUST BE 13+ TO REGISTER. BATTLEPACK CODES EXPIRE SEPTEMBER 13, 2014. A GOLD BATTLEPACK WILL BE AWARDED EVERY TUESDAY FOLLOWING THE END OF EACH COMMUNITY MISSION FROM 4AM PDT TO 3:59AM PDT THE NEXT DAY AND IS AUTOMATICALLY ENTITLED WHEN YOU LOG INTO PRODUCT DURING THAT DAILY TIME PERIOD. DOUBLE XP IS AUTOMATICALLY ENTITLED FROM JULY 12, 2014 AT 2AM PDT THROUGH JULY 14, 2014 AT 2AM PDT AMD FRP, AUGUST 9, 2014 AT 2AM PDT THROUGH AUGUST 11, 2014 AT 2AM PDT. THE CAMO IS AUTOMATICALLY ENTITLED EACH FRIDAY OF THE PROMOTION PERIOD STARTING JULY 18, 2014 AT 5AM PDT. EA ONLINE PRIVACY AND COOKIE POLICY AND TERMS OF SERVICE ARE AVAILABLE AT WWW.EA.COM. SEE APPLICABLE END USER LICENSE AGREEMENT AND DISCLOSURES ON WWW.EA.COM/1/PRODUCT-EULAS. VALID WHEREVER BATTLEFIELD 4 IS OFFERED. CODE MAY NOT BE SUBSTITUTED, EXCHANGED, SOLD OR REDEEMED FOR CASH OR OTHER GOODS OR SERVICES. MAY NOT BE COMBINED WITH ANY OTHER OFFER, GIFT CARD, REBATE OR DISCOUNT COUPON. VOID WHERE PROHIBITED, TAXED OR RESTRICTED BY LAW.