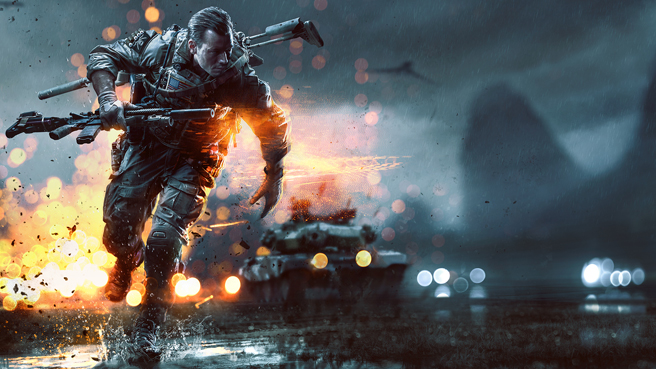 From August 2 to August 9, you can get Battlefield 4 China Rising for free. The battle continues on the Chinese mainland with all-new maps, vehicles, gadgets, and a new game mode. But don't wait, because after August 9 this deal will be gone. For more information and links to download, head over to the Road to Battlefield 1 page.
Four New Maps

Take the fight to the east and dominate on four exotic, all-new multiplayer maps: Silk Road, Altai Range, Guilin Peaks, and Dragon Pass.

Air Superiority

Jump into your jet or heli and dominate the dogfights in the Air Superiority game mode, where two teams fight for control of the skies.

New Vehicles

The fan-favorite Dirt Bike makes a triumphant return in China Rising, and the new Bomber lets you bring massive destruction from above.
Community Mission: 90 Million Assault Rifle Kills
Jump into any Battlefield 4 multiplayer mode and map and collectively score 89 Million total Assault Rifle kills to get a Gold Battlepack. This mission is active between August 2, 2016 9AM PT and August 8, 2016 9AM PT.
*REQUIRES BATTLEFIELD 4 FOR APPLICABLE PLATFORM (SOLD SEPARATELY), INTERNET CONNECTION AND XBOX LIVE GOLD ACCOUNT (FOR XBOX ONE AND XBOX 360).
**THIS OFFER IS BEING ISSUED TO YOU FOR PROMOTIONAL PURPOSES ONLY AND DOES NOT CONSTITUTE A CREDIT, CHARGE, DEBIT OR GIFT CARD. OFFER VALID FROM AUGUST 2, 2016 9AM PT TO AUGUST 8, 2016 9AM PT. REQUIRES BATTLEFIELD 4 ("PRODUCT") ON APPLICABLE PLATFORM, INTERNET CONNECTION, EA ACCOUNT, AND (FOR CONSOLE PLAYERS) AN XBOX LIVE OR SONY ENTERTAINMENT NETWORK ACCOUNT TO PARTICIPATE AND ACCESS IN-GAME CONTENT. BATTLEPACK MUST BE CLAIMED IN BATTLELOG PRIOR TO END OF MISSION. PC PRODUCT REQUIRES ACCEPTANCE OF THE ORIGIN END USER AGREEMENT AND INSTALLATION OF THE ORIGIN CLIENT SOFTWARE (WWW.ORIGIN.COM/ABOUT). YOU MUST BE 13+ TO REGISTER. EA ONLINE PRIVACY AND COOKIE POLICY AND TERMS OF SERVICE ARE AVAILABLE AT WWW.EA.COM. SEE APPLICABLE END USER LICENSE AGREEMENT AND DISCLOSURES ON WWW.EA.COM/1/PRODUCT-EULAS. VALID WHEREVER BATTLEFIELD HARDLINE IS OFFERED. LIMIT ONE PER PERSON. MAY NOT BE COMBINED WITH ANY OTHER OFFER, GIFT CARD, REBATE OR DISCOUNT COUPON. VOID WHERE PROHIBITED, TAXED OR RESTRICTED BY LAW.
**THIS OFFER IS BEING ISSUED TO YOU FOR PROMOTIONAL PURPOSES ONLY AND DOES NOT HAVE A CASH VALUE. OFFER VALID FROM JULY 26, 2016 9AM PT TO AUGUST 2, 2016 9AM PT. REQUIRES BATTLEFIELD HARDLINE ("PRODUCT") ON APPLICABLE PLATFORM, INTERNET CONNECTION, EA ACCOUNT, AND (FOR CONSOLE PLAYERS) AN XBOX LIVE GOLD OR PlayStation Plus ACCOUNT TO PARTICIPATE AND ACCESS IN-GAME CONTENT. BATTLEPACK MUST BE CLAIMED IN BATTLELOG PRIOR TO END OF MISSION. VALID WHEREVER BATTLEFIELD HARDLINE IS OFFERED. LIMIT ONE PER PERSON. MAY NOT BE COMBINED WITH ANY OTHER OFFER, GIFT CARD, REBATE OR DISCOUNT COUPON. VOID WHERE PROHIBITED, TAXED OR RESTRICTED BY LAW.