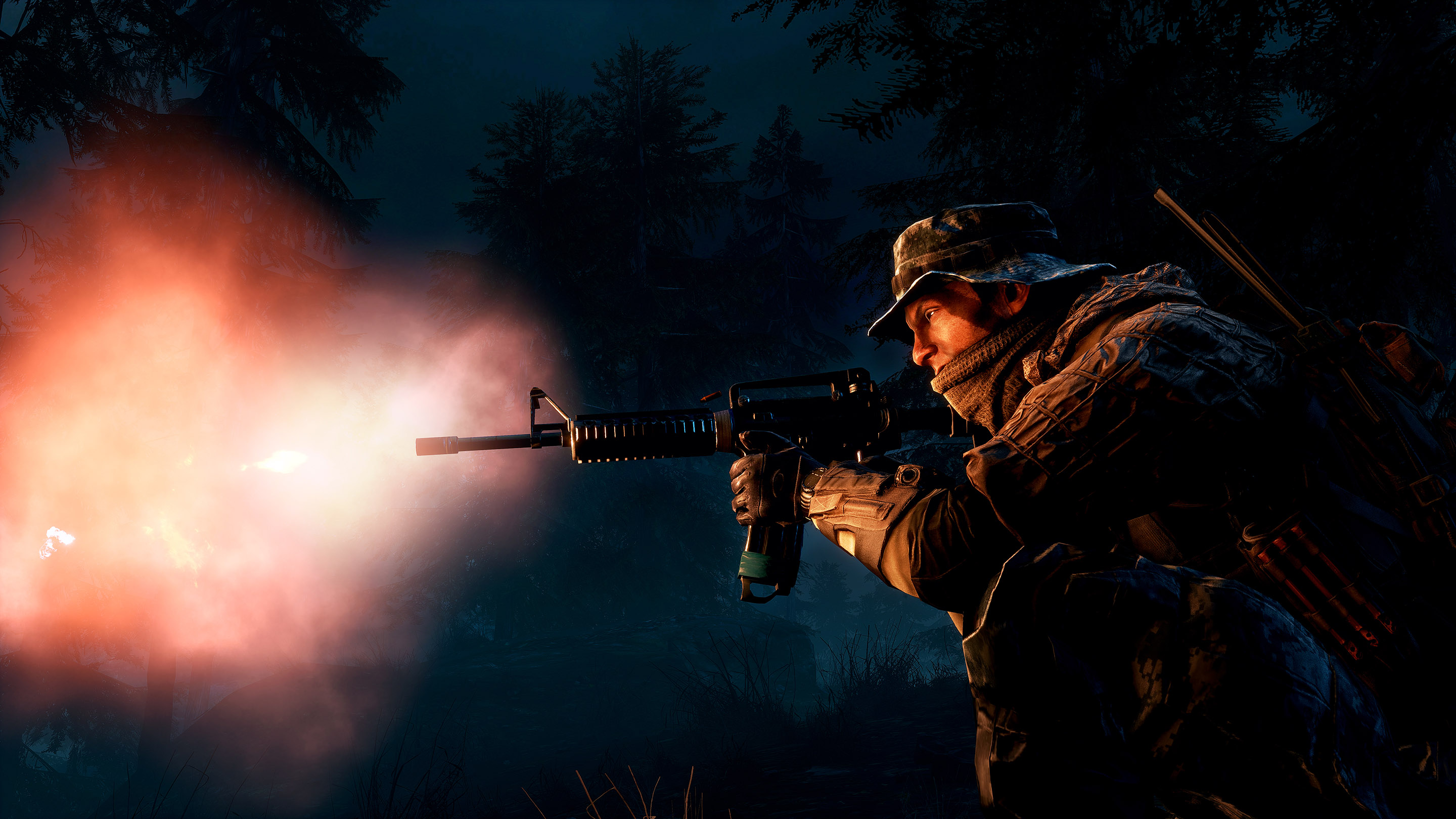 Battlefield 4™: Night Operations released this week, adding Zavod: Graveyard Shift to the game for free. It's a night map, meaning it calls for a much different type of strategy. If you want to succeed, we recommend familiarizing yourself with assault rifles and night vision scopes like the IRNV and FLIR. Hmm.  That gives us an idea…
Jump into any Battlefield 4 multiplayer mode and map and collectively score 50 million kills while using any assault rifle. This mission is active between September 2, 2015 9AM PT and September 7, 2015 9AM PT.
What better way to celebrate Battlefest Season 4 than by racking up 50 million kills? Yeah. 50 million kills. Don't worry, we're giving you a whole five days to do it! We're sure you're up to the challenge… probably. And you don't need to earn those kills in Zavod: Graveyard Shift, either, you can get them in any map and mode! Plus, if you succeed, you'll all get a shiny new Gold Battlepack (be sure to redeem your reward through Battlelog before September 7, 2015 at 9AM PT).
You can track your progress on the Community Missions tab. You can also see how you're doing if you bring up Battlelog in-game – just check the "Missions" tab ("Missions" tab is only available on PC, PlayStation 4, and Xbox One).
THIS OFFER IS BEING ISSUED TO YOU FOR PROMOTIONAL PURPOSES ONLY AND DOES NOT CONSTITUTE A CREDIT, CHARGE, DEBIT OR GIFT CARD. REQUIRES BATTLEFIELD 4 ("PRODUCT") ON APPLICABLE PLATFORM, INTERNET CONNECTION AND EA/ORIGIN ACCOUNT TO PARTICIPATE AND ACCESS IN-GAME CONTENT. LIMIT ONE OFFER PER EA/ORIGIN ACCOUNT. PC PRODUCT REQUIRES ACCEPTANCE OF THE ORIGIN END USER AGREEMENT AND INSTALLATION OF THE ORIGIN CLIENT SOFTWARE (WWW.ORIGIN.COM/ABOUT). YOU MUST BE 13+ TO REGISTER. EA ONLINE PRIVACY AND COOKIE POLICY AND TERMS OF SERVICE ARE AVAILABLE AT WWW.EA.COM. SEE APPLICABLE END USER LICENSE AGREEMENT AND DISCLOSURES ON WWW.EA.COM/1/PRODUCT-EULAS. VALID WHEREVER BATTLEFIELD 4 IS OFFERED. MAY NOT BE COMBINED WITH ANY OTHER OFFER, GIFT CARD, REBATE OR DISCOUNT COUPON. VOID WHERE PROHIBITED, TAXED OR RESTRICTED BY LAW.
EXCEPT AS EXPRESSLY CREDITED, NO WEAPON, VEHICLE OR GEAR MANUFACTURER IS AFFILIATED WITH OR HAS SPONSORED OR ENDORSED THIS GAME.