Publicações antigas de notícias
Prepare 4 Battle with the Battlelog App
The Battlefield 4 Beta is in full swing, and hopefully you are busy enjoying the Conquest and Domination modes on the epic Siege of Shanghai map.
To enhance your Battlefield 4 experience, make sure to download the Battlelog App if you haven't already done so. Available on Android and iOS, the Battlelog App lets you interact and stay connected with Battlefield 4 on the go.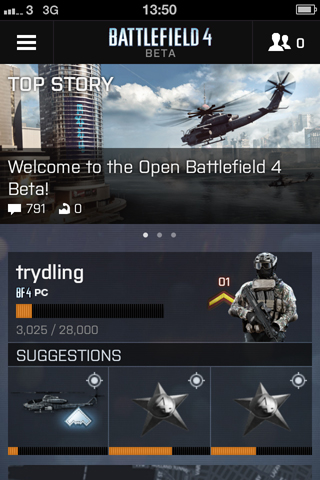 Stay updated with the latest Battlefield news. Customize your soldier's weapons and vehicle loadouts. Create challenging Missions and compete against your friends. Or check out the Geo Leaderboards to find out who's the best Engineer in your city.
The Battlelog App also informs you on what your friends have been up to, thanks to the Battlefeed. You can analyze the Battle Reports from your latest game rounds, and see how your favorite weapons stack up against each other – and much more.
Get the Battlelog App for Android
Get the Battlelog App for iOS
Learn more about Battlelog in our in-depth blog post at the Battlefield Blog.
Battlefield 4 Beta Basics: Learn Domination and Conquest
Check out our new Battlefield 4 Beta Overview Video for a look at what's on offer in the Exclusive and Open Beta, as well as some quick tips on playing the game modes available in the Beta: Domination and Conquest.
As always, we are listening to your feedback. Please let us know what you think in the Beta forums here on Battlelog.