The fast and furious flavor of Battlefield Hardline multiplayer entails a lot of heat on central parts of the maps. But there is still room – and need – for action from afar. Enter the Professional. Taking care of business with bolt-action sniper rifles and sneaky gadgets, this class is a master of long-range combat and intel gathering.
Playing Professional and mastering sniping takes a bit more finesse than regular gunfights, but the reward of satisfaction from a perfect shot from the distance is oh so sweet. Find a favorite rifle and the perfect attachments for it, head to a good place on the map, practice your aim, and you'll soon be a long-range combat god, invaluable to your team.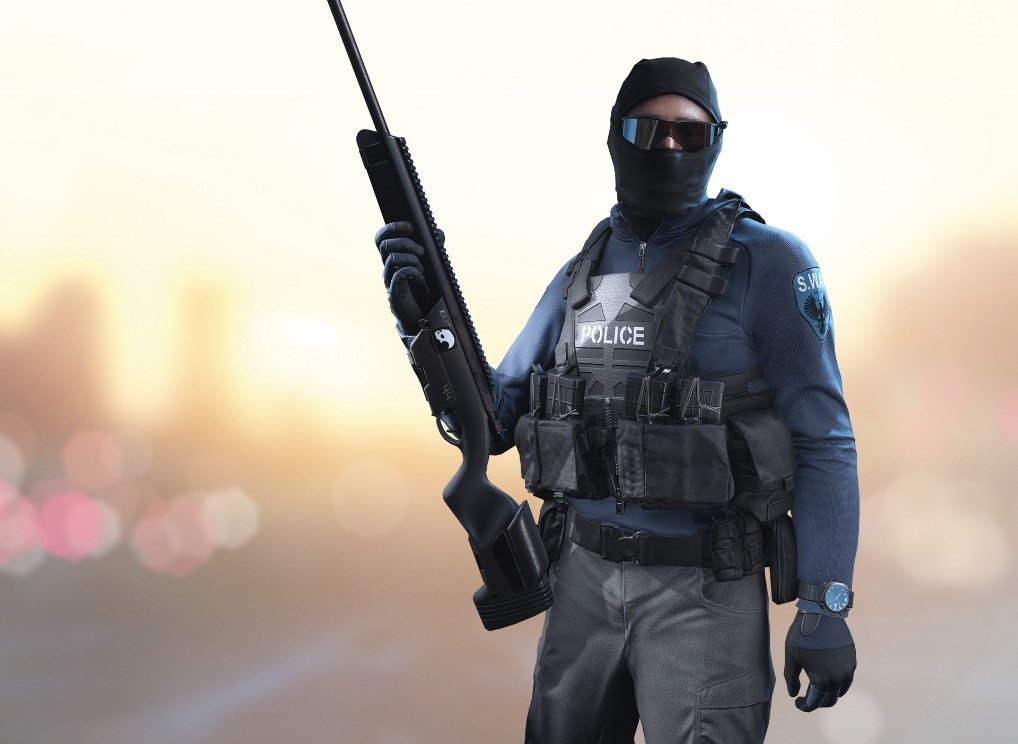 Professional Community Mission
Let's see how professional you really are in a brand new Community Mission dedicated to the class. Here's what we want: Hit the streets and lay out 15 million Laser Tripmines before May 4. Yeah, that's a s**tload of booby traps – but we think you Pros will nail this one. Bag this mission and we'll award you with a Gold Battlepack full of in-game goodies and a Professional wallpaper.
The Community Mission is active between April 29, 9AM PDT and May 4, 2AM PDT. You can track the mission progress on the Multiplayer/Missions tab on Battlelog.
How to Play as Professional – Tips and Tricks
They be trippin': To be a better Professional and to pull your weight in the Community Mission, master the Tripmine gadget. These claymore-like babies can be placed on any available surface in arm's reach and go off when enemies cross their laser beams. Place them smart: in busy, tight quarters and low so enemies can't see the beams.
Find the perfect gun: There are two main weapon types at the Professional's disposal: powerful bolt-action rifles and fast-firing semi-auto rifles. Bolt-action rifles bring a lot of pain, but the rate of fire is slow and the mags are limited. Try them out, and see if you prefer them over the semi-auto rifles that pack less punch but are more versatile.
Information is power: The Professional has access to two great gizmos for gaining and distorting information on the Battlefield. The Camera makes enemy movement visible on the minimap for you and your crew, so stick these on strategic places. At $25,800 of your in-game dollars, The Decoy is a bit pricier than the Camera ($6K) but can really make fools of your law-breaking/abiding enemies. When placed on the Battlefield, this noisy box creates phony gun sounds and projects false enemy icons on the opposing team's minimaps. Use it well, and enemies will be your mind game puppets, going into areas you'd like them to be at.
Stealth 2.0: Battlefield veterans know the value of not being seen. When you've scraped together enough cash ($48,000 to be precise) you can unlock the Stealth Training gadget, which reduces the sound of footsteps and actions like opening doors. Stealth Training is perfect for modes like Crosshair and Rescue where you need to stay undetected – and the hood that comes with the gadget is worth the price alone.
* THIS OFFER IS BEING ISSUED TO YOU FOR PROMOTIONAL PURPOSES ONLY AND DOES NOT CONSTITUTE A CREDIT, CHARGE, DEBIT OR GIFT CARD. BATTLEFEST IS FROM MARCH 26, 2015 AT 9AM PT THROUGH MAY 4, 2015 AT 2AM PT ("PROMOTION PERIOD"). REQUIRES BATTLEFIELD HARDLINE ("PRODUCT") ON APPLICABLE PLATFORM, ORIGIN ACCOUNT AND INTERNET CONNECTION AND (FOR CONSOLE PLAYERS) AN XBOX LIVE GOLD OR SONY ENTERTAINMENT ACCOUNT TO PARTICIPATE AND ACCESS IN-GAME CONTENT.
BATTLEFIELD HARDLINE PROFESSIONAL CLASS WEEK IS ACTIVE FROM APRIL 29, 2015 9AM PT THROUGH MAY 4, 2015 2AM PT.  PROFESSIONAL COMMUNITY MISSION GOLD BATTLEPACK IS REWARDED UPON SUCESSFUL COMPLETION OF THE COMMUNITY MISSION FROM MAY 6, 2015 AT 9AM PT AND IS AUTOMATICALLY ENTITLED WHEN YOU LOGIN INTO THE PRODUCT DURING THAT PERIOD.  BATTLEFIELD HARDLINE PROFESSIONAL CLASS WEEK WALLPAPER WILL BE AVAILABLE TO DOWNLOAD FROM WWW.BATTLEFIELD.COM/EN_US/HARDLINE/GALLERY FROM MAY 6, 2015 AT 9AM PT.
EA ONLINE PRIVACY AND COOKIE POLICY AND TERMS OF SERVICE ARE AVAILABLE AT WWW.EA.COM. SEE APPLICABLE END USER LICENSE AGREEMENT AND DISCLOSURES ON WWW.EA.COM/1/PRODUCT-EULAS. SOFTWARE MAY INCORPORATE PUNKBUSTER ANTI-CHEAT TECHNOLOGY.  FOR MORE INFORMATION ON PUNKBUSTER, VISIT EVENBALANCE.COM. VALID WHEREVER BATTLEFIELD HARDLINE IS SOLD. MAY NOT BE SUBSTITUTED, EXCHANGED, SOLD OR REDEEMED FOR CASH OR OTHER GOODS OR SERVICES. MAY NOT BE COMBINED WITH ANY OTHER OFFER, GIFT CARD, REBATE OR DISCOUNT COUPON. VOID WHERE PROHIBITED, TAXED OR RESTRICTED BY LAW.
EXCEPT AS EXPRESSLY CREDITED, NO WEAPON, VEHICLE OR GEAR MANUFACTURER IS AFFILIATED WITH OR HAS SPONSORED OR ENDORSED THIS GAME.