Multiplayer Beta Unlocks
seeson
5 years ago
Hey everyone, we're glad that you're all enjoying the Medal of Honor Warfighter Beta! We've heard that you want more information on what's available within the Beta, so here are the official Multiplayer Beta Unlocks: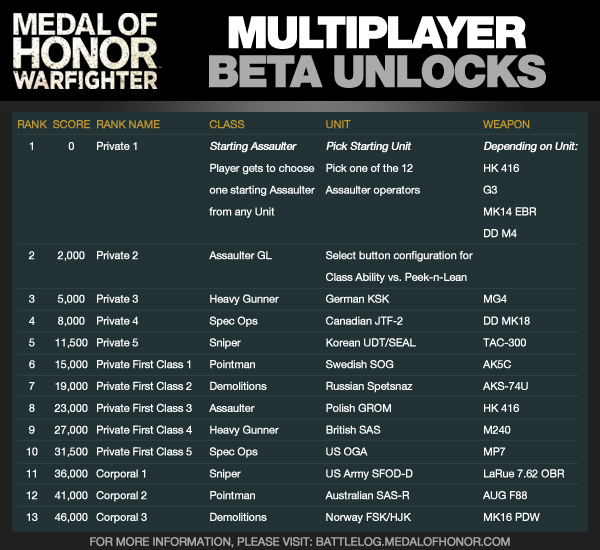 Start by choosing an Assaulter from any of the game's 12 units, including the British SAS, German KSK, Korean UDT, and U.S. Navy SEAL. The unit you choose determines the weapon you'll take into battle, at least for now.
Engage the enemy in Hotspot mode, where players attack and defend randomly selected locations on the Sarajevo Stadium map. Fight alongside your Fireteam buddy to earn points for ranking up and unlocking more operators. Your Fireteam buddy is unique to Warfighter – it's like having co-op within multiplayer. We learned this from consulting with the Tier 1 Operators who always travel in pairs to watch each other's backs at all times. In the Beta, you can unlock 12 units and their powerful weapons.
Every kill you acquire with a weapon gets you closer to the Marksman, Sharpshooter, and Expert medals for that weapon. Earn a medal to unlock new weapon attachments!
Of course, the heart-pounding multiplayer gameplay you see in the Beta is just the tip of the iceberg. In the full game, you can unlock 72 operators plus their weapons and additional attachments.
For more information, please visit http://battlelog.medalofhonor.com – Thanks for playing and we'll see you online!
- Daniel "Wix" Wiksten
Game Designer, Medal of Honor Warfighter